Chad Johnson's NFL Career May Not Be Over
|
By: Amanda Anderson-Niles
Things have been looking really bleak for Chad Johnson ever since he got arrested for headbutting his now ex wife, Evelyn Lozada. An argument that was sparked over a box of condoms became an act of violence that eventually led to the demise of Chad's marriage and football career. Since Chad has been dropped by the Miami Dolphins, most have speculated that it was a wrap for his football career. And it didn't help that his whole fallout and violence towards Evelyn only made room for his first run in with domestic abuse with a former girlfriend to make headlines. And since Chad is such a PR disaster, most of the NFL teams are too afraid to pick him up as a player, for fear of backlash from sports fans.
Despite any of that, Chad has been very vocal about taking responsibility to what happened with him and Evelyn. And recently, he even made it clear that he doesn't think Evelyn ruined his life, but that he in fact had made a bad decision, and he has to suffer the consequence.
Welp, it looks like by publicly taking responsibility for head butting Evelyn, Chad might have made another shot at a NFL career possible.
According to the latest gossip, Chad flew in to Philadelphia the other day to meet with the Philadelphia Eagles. And interestingly enough, he also tweeted about taking a flight to Philadelphia the other day: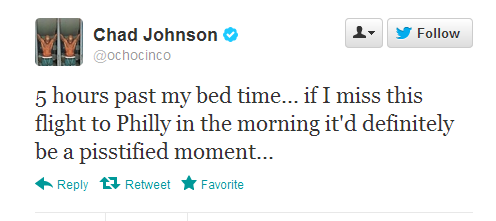 And Chad also had a recent interview on Inside The NFL, and according to several sources, he impressed a lot of the big wigs in the NFL by admitting he has an anger problem and plans to seek counseling. They even say a certain General Manager of one of the teams could be interested: