Nicki Minaj Receives Death Threats For 'Endorsing' Mitt Romney in Rap Verse (Update)
|
By: Amanda Anderson-Niles
Nicki Minaj is known for being controversial. Rather it's her image, fashion choices, beefs with other female rappers, lyrics, or even her rumored diva antics; the larger than life female rapper knows how to garner attention from her fan base and critics alike. Unfortunately for Nicki, sometimes the attention isn't positive. And this time, Nicki Minaj is making headlines for what many believe may be some rather interesting political beliefs. With her recent lyrics suggesting that she's a supporter of Republican Presidential Candidate Mitt Romney, some suggest the Head Barbie may have went too far. In addition to upsetting some of her own fans with this political punch line, she's even outraged some of President Obama's biggest supporters who feel the female rapper could possibly use her influence to get her young fan base to sway away from the Democratic ticket.
Nicki Minaj did a freestyle verse on the Mercy instrumental which was originally produced by Kanye West. Here's the lyrics in question:
"I'm a Republican voting for Mitt Romney / You lazy b***hes is f-ing up the economy."
Well it appears there's a group of people who took their enthusiasm for President Obama and disgust with Nicki Minaj's "endorsement" of Mitt Romney a little too far. Yesterday on Twitter, Nicki Minaj received death threats for her political rap lyrics. Check out the tweets gathered by Weasel Zippers: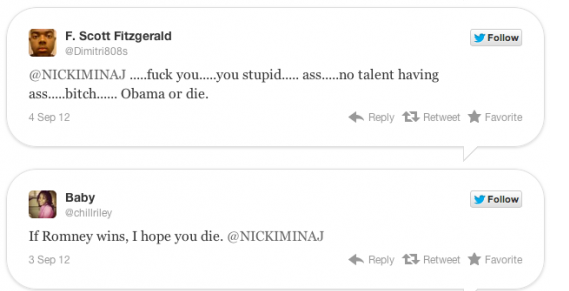 Honestly, we find all of this rather sad and pretty interesting. Firstly to be fair, Nicki has already made her support of President Obama clear. And she's also a big supporter of free health care for all . And that clearly goes against Republican beliefs. So we're thinking this was just another one of her punch lines, and it just went terribly wrong. Regardless, Nicki hasn't said a thing nor tweeted about the controversy.
Update: It was only a matter of time before someone did some digging for Nicki's voting records. Turns out, Gawker has discovered that she isn't even registered to vote:
"I'm a Republican voting for Mitt Romney."
Fact check: Mostly false. A search of voter rolls in California and New York, where Minaj maintains homes, comes up empty; which means that not only is Minaj not a registered Republican voting for Mitt Romney, she's not voting at all unless she registers soon. (It's also unclear whether or not Minaj, who was born in Trinidad and Tobago, is an American citizen.)