Was Stevie J. Ever Physically Abusive Towards Mimi?
|
By: Taren Vaughan
Did Stevie J. physically abuse Mimi Faust? Mimi Faust's relationship with Stevie J. has been broadcasted to the world for the past few months, with viewers continuously voicing their opinions about it. And as Love and Hip Hop Atlanta has come to an end, people still can't keep themselves from inquiring about where Mimi and Stevie really stand as of now. After watching the first episode of the reunion, Mimi's critics were in full swing with their commentary as they came at her on Twitter again. This must have been the last straw for Mimi as she was captured on video going on an angered rant about her critics and their opinions of her and how she handles her relationship with Stevie, calling them everything but children of God. Judging from the sneak peek of part 2 of the reunion show, Mimi's critics may have even more to say before it's all said and done. Mimi's past as a groupie has been revealed again and recently one of Mimi's  followers has even went on to bring up a past situation that resulted in Mimi being arrested. According to records at the Fulton County Sheriff's office, Oluremi Fela Faust, Mimi's full government name, was arrested on a battery charge with a bond set at $2,500.
Although this mug shot of Mimi has been spotted for awhile now, the person on Twitter must have just peeped it and assumed that this all took place while Mimi was with Stevie and that he was the one who abused her as Mimi is shown with a bandaged forehead. Mimi responded by saying that her ex boyfriend was the one that did that to her and not Stevie, an ex that Mimi claimed she dated before she dated Stevie J: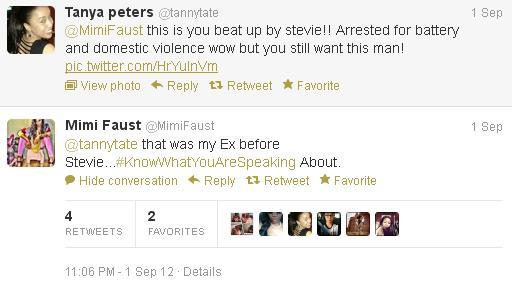 The person wasn't buying what Mimi was saying though:

And Mimi responded by saying that she finds no need to lie about something like that:
Mimi hasn't given the full scoop on the battery charges involving her ex boyfriend as of yet but she has made it a point to get involved in the fight against domestic violence, doing a PSA alongside K. Michelle. Mimi  made it clear however that Stevie may act out of line and talk crazy to her and Joseline at times but he was not the one who was abusive towards her. Regardless, people still waste no time going in on Mimi for sticking it out with Stevie, including Charlamagne Tha God who recently gave Mimi the "Donkey of The Day" award.