By: Amanda Anderson-Niles
Season five of Real Housewives of Atlanta may be over, but the reunion for the show just wrapped up on Sunday. The sit down with all of the housewives was divided into three parts, with the last part focusing more on everyone's on-screen romantic relationships. Notably present was Walter Jackson (Kenya's former flame) and Kordell Stewart. Walter made headlines after he went to Atlanta radio station V-103 and claimed he and Kenya were faking their romance for the cameras, and although Kenya denied the allegations, it was clear that most of the other housewives agreed with Walter. And it was painfully silent when Andy Cohen asked the ladies during the reunion if any of them believed that Walter and Kenya were really together. Andy asked twice and eventually Kandi tried to be the kind one and said she kind of believed they might have had something. However, every one else was pretty clear that they weren't buying it, especially NeNe Leakes and Kenya's nemesis Phaedra Parks.
Walter hoped he would be able to tell his side of the story and receive an invite to the reunion show, however, Bravo wasn't willing to jeopardize their relationship with season five breakout star Kenya Moore to accommodate Walter. He expressed his outrage about this a couple of months ago on Twitter, but after watching the reunion and seeing Andy ask the tough questions and most of the cast defend him, he took to his Twitter account to make it clear that he was happy with the reunion. He tweets (read from the bottom up):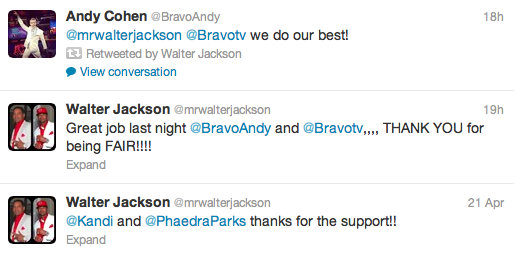 It looks like Walter has finally made peace with the situation.