By: Amanda Anderson-Niles
Evelyn Lozada has had a crazy few months. Just barely a month after marrying Chad Johnson, the two had a nasty split and divorce after he was arrested for head butting her during an argument over a box of condoms. Since then, both Evelyn and Chad continued to lose just about everything they had gained as a couple, even the reality show they filmed for VH1, which was eventually cancelled due to the domestic dispute. After giving a series of interviews and even appearing on a segment of Fix My Life, many thought that Evelyn would not return to the controversial reality show that made her a star, Basketball Wives. And when the time came for cast members to sign on the dotted line confirming their return to the show, it was alleged that Evelyn was holding up the process, since she was unsure at the moment of her return. This was said to be a result of the backlash she received during the split with Chad, as many found it hard to believe that a very violent Evelyn Lozada did not get physical with Chad Johnson first, causing the altercation.
Well, I guess it's safe to say that Evelyn will be returning to Basketball Wives. According to the latest gossip, she's officially signed on for the upcoming season.
And if her tweets are any indicator, it looks like she's actually looking forward to filming: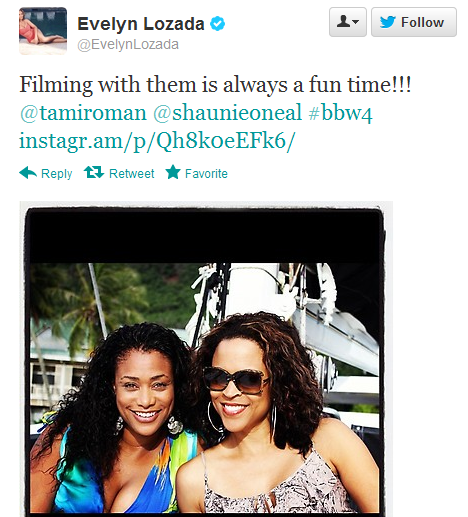 Of course Shaunie responded:
Rumors are still swirling around about others not returning. The popular names of who won't be back for the fifth season are Royce Reed, Jennifer Williams, Kesha Nichols and Kenya Bell. I'm sure things will either be confirmed or denied about these ladies the closer it gets to filming, which is said to be in the next couple of weeks.