The apparent highlight of tonight's "Black Ink Crew" episode will be when Ceaser and Genesis meet amid Genesis' beef with his mother Sky.
When Ceaser walks into the restaurant, he tries to shake Genesis' hand. However, Genesis gives him a look, only offering a pound.
Ceaser then says to Genesis, "It feels like I'm looking at ya mom's right now."
Genesis seemingly takes this as an insult.
"Nah. It feels like you're looking at Genesis, man." – Genesis
Next, Ceaser tries to explain Sky's thought process, telling him, "Her anger gets her into a lot of s*** sometimes."
He then adds:
"All I'm trying to do is figure out some type of resolution, because there's one story, there's another story, and then there's the truth."
As Ceaser tries to stay calm., in his green screen interview, he says Genesis sized him up. And that reminds him of Sky.
"I can see a lot of Sky in this motherf***a! He look like if I say one wrong word, he ready to pounce on me!" – Ceaser
When Ceaser tells Genesis he wants to make amends between him and Sky, Genesis replies, "You're not the one I need to talk to for that."
Then Genesis dismisses Ceaser's attempt to build a bond, as he doesn't think Ceaser's being real with him.
"I don't know you. I don't want to build no relationship with you." – Genesis
Genesis then flips the script on Ceaser and begins to ask the questions. He asks Ceaser if he would give his daughter up for adoption.
Ceaser says no.
At the end of the preview, Genesis moves the table aside from between them and Ceaser looks even more nervous.
Check out the clip below.

In other news, the realness Genesis doesn't see in Ceaser and Sky, he definitely sees in Dutchess. Recently, Genesis shouted out Dutchess on Instagram. Apparently, the two developed a relationship off-screen, and she's been there for him when he needed help.
He also doesn't care that people are on Sky's side in everything, claiming he and Dutchess know the truth.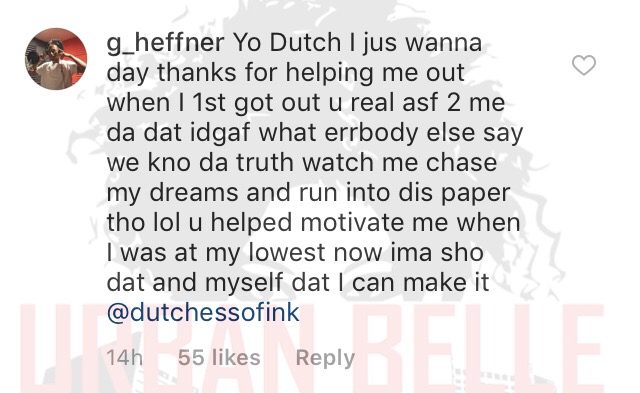 Some then tried to come for Dutchess, alluding that Dutchess had malice for Sky and "Black Ink Crew" when she allowed Genesis and Big Reez use her shop for their interview. However she wasn't here for it. She said that if she actually had malice towards anyone, that interview would not have happened in her shop.
Lastly, she called out those who are believing the lies about her and Genesis, saying they are only fed and entertained by ignorance.