The woman Dr. Greg went to a hotel room with did an interview with a blog.
She claims he gave her head and she did the same to him. She also claims that his "manhood" is small.
All the ladies discuss this with their husbands. Dr. Jackie tells Curtis she feels like Quad and Dr. G's marriage is over.
Around 5am, Quad's alarm clock goes off. She's adjusting to life now being separated from Gregory. She never imagined that marriage life would be this way for her. They do still live in the same house together. But they aren't sleeping in the same bed.
The infidelity was the last straw as far as she's concerned.
Quad does not believe the woman is lying about any of the details she gave the blog. She doesn't talk to Gregory much.
Things are so confrontational and she feels so lonely.
Work has been a refuge for Quad. She's a cohost on daytime talk show, "The Sister Circle."
She refuses to let the situation turn her into an angry and bitter woman.
Eugene has gotten serious about improving his health.
Toya and Eugene go to a trampoline center.
Both think it's important for Eugene to keep an active lifestyle. He lost 40 pounds already. He's working closer to the house and a lot less hours now that their tax debt has been paid off.
Eugene admits he feels stupid jumping on the trampoline in front of other people. He wishes they would have went bike riding instead.
They have some small talk. Toya tells Eugene she hasn't talked to Quad in a while because she told Toya that she has to make sure she spends time with her real friends. Not the ladies of "Married to Medicine."
Toya also thinks it's messed up that Quad didn't open up about Greg's cheating last season like Jackie did. While Jackie has been an open book, Quad refuses to be. Eugene says that Quad made it seem like her issue with Greg was that he didn't take out the trash. Not that he was unfaithful, which is a much more serious matter.
Things have changed for Dr. Contessa.
Last season she dealt with Mommy Guilt, and decided she didn't want to work anymore.
But now she sees that being a stay at home mom is not easy at all.
She's struggling to keep everything balanced. She wants to be a great mom and a great wife.
"It's just never-ending." – Contessa
Scott checks in and tells her he will be back from work after 5pm. In a green screen interview, Contessa says she started to miss work.
So she's been working part time, one day a week. It's been working out for her.
Dr. Simone and Cecil are in a much better place.
Cecil stops by Simone's office with flowers.
She's surprised to see him.
In a green screen interview, Simone says that she filed for divorce after the season wrapped up. But they changed their minds at the reunion. They are still going strong.
Counseling has been a priority for them.
They are still separated and living in different houses. Cecil tells her that he wants to have s*x.
It's been a long time but Simone wants to take things slow.
Things are still going good with Dr. Jackie and Curtis, but Jackie still has her insecurities.
She tells her patient that she and Curtis are in a much better place. Curtis is even living in the house again and they are back together.
In a green screen interview, Jackie says that she and Curtis spend more time together. That has made their relationship stronger.
But she admits there are days that she still has a hard time.
Jackie felt some kind of way about Curtis taking a long time to tell her he went to the car show recently. She pondered for a minute if he might be cheating again. She realizes she has to work on trusting Curtis.
Simone calls Tiffanie, the s*x therapist who made an appearance during the Barbados trip.
They get to the nitty-gritty quickly. Simone tells her that Cecil wants to have s*x again. She doesn't know if that's a good idea. So she suggests that all the couples get together and get more help from Tiffanie in their relationships.
Tiffanie says they should come dressed in lace.
Heavenly and Damon talk about how the other couples are struggling.
After the gossip blogs wrote about a woman accusing Greg of cheating on Quad, she tried to reach out. Quad has been very closed off, not wanting to talk about things.
She also knows that people in the group feel she is mean. She knows she did upset some of the couples with the questions she asked during the couple's game in Barbados.
Damon says she says hurtful things to people when she gets angry.
So she figures she should talk to her spiritual guide Jewel more to get back on track. Damon feels she can change if she reads the bible more.
Mariah is getting ready for Simone's leather and lace party.
Aydin wonders if Mariah and Heavenly will clash again. They haven't seen each other since the reunion.
She teases Aydin by having him put some makeup on her boobs.
Simone gets the advice she needs.
Simone arrives to the party with Heavenly hoping things will go well.
They are greeted by two male models who hand them roses. Heavenly is suprised to see s*x toys out on a table.
In a green screen interview, Heavenly says she doesn't think Simone is ready for s*x toys.
Tiffanie arrives and tells them that she wants to make sure everyone gives Simone the support she needs.
Contessa arrives and she greets Heavenly and Simone with hugs.
Mariah arrives in her cat woman outfit.
Heavenly is actually pleasant towards Mariah. She says in a green screen interview that she doesn't have a problem with Mariah and she hopes they can get past the drama.
Jackie arrives and Simone says that Toya had to go to the emergency room because her son hurt himself. Quad said she can't come because she had some "Sister Circle" stuff to do.
Simone says that all the ladies will be there for her if she ever chooses to come around.
Tiffanie says that Simone feels like her s*xiness has been lost. She also wishes Cecil would show more emotion.
She doesn't want a divorce. It's important she and Cecil get back on track mentally and physically.
Heavenly says that she's going to sleep with Damon anytime he wants to. She's also going to cook and work because that works for their marriage.
Tiffanie says different things work for different people.
Jackie says that Simone will have some good days and some bad days with Cecil.
"The healing process is like a true cut. The further you get away from the wound, the better it is." – Jackie
Simone is happy to be around girlfriends and talk things out.
"You need a team. It takes a village." – Simone
It's also explained to Simone by Tiffanie that her s*xness is always within her and will never leave.
Heavenly and Mariah clash, again at Simone's party.
After Tiffanie leaves, Heavenly says she has a surprise for Mariah to mend things over. She apologizes for ruining her poster at the reunion, so she gives her a new one.
Mariah feels this is shade when she sees Heavenly used the picture from when she was at her heaviest.
"Just accept the picture for what it is!" – Heavenly

"Your apology ain't sh*t to me." – Mariah
They start arguing and Mariah says Heavenly can kiss her butt. As she begins to walk out, things escalate further.
"And your teeth are beautiful." – Heavenly

"Thank you. Why don't you fix yours and your husband's!" – Mariah

"Listen, why don't you fix your husband with his small stuff." – Heavenly
Everyone is in shock that Heavenly took jabs at Aydin's p*nis size. But Mariah claps back with some major accusations of her own.
"I can tell you a lot of people that have slept with Damon." – Mariah

"Don't even do that. Now she's trying to lie." – Heavenly

"Do you want me to bring the receipts? Do I need to bring the receipts, babygirl? Cause I got receipts!" – Mariah   

"What is she talking about?"- Heavenly

"Your husband. Ask him what he really likes. F*ck with me. You know I got it!" – Mariah

"I'm tired of talking to you." – Heavenly

"Don't do me! I can say so much about your husband!" – Mariah
Heavenly says she doesn't understand why Mariah is so upset about her writing on Mariah's poster and Mariah decides to walk out the venue.
Quad doesn't trust the group.
On the way out, she runs into Toya. She tells Toya that she got into it with Heavenly, again. Toya convinces her to go back inside.
They walk back in together and Toya tells them her son is doing much better.
Toya gets her drink and Toya asks Heavenly what happened. But Heavenly says that everything is fine and she doesn't feel like rehashing it.
Quad becomes the topic and they admit that they feel like Quad is avoiding everyone because she doesn't want to talk about the blog story.
While Toya feels it's unfair that Quad doesn't want to open up about things, Jackie says she understands.
Heavenly says that Quad will take them confronting her as a personal attack. Mariah says it's best to just let Quad open up when she's good and ready.
"She's very, very guarded." – Mariah
Back at Quad's house, she's in her pajamas. She goes to the mirror and says affirmations to remind herself that she is strong.
In a green screen interview, she says she's not ready to return to the group because it's a "very judgmental environment."
"I just don't need nobody to try to bring me down." – Quad
What are your thoughts on the episode?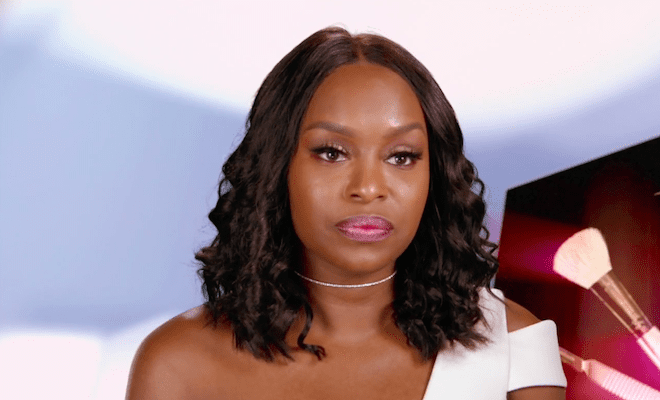 By: Amanda Anderson-Niles
On the season 6 premiere of "Married to Medicine," Quad and Gregory's marriage is rocked by another storm.
The woman Dr. G went to a hotel with does an interview about their night together.
She claims Gregory did cheat on Quad.
Quad doesn't feel like coming around the group and hashing out the details. So she sticks to herself.
This seems very hypocritical to Toya considering everyone else has been open about their marriages.
Mariah makes some serious accusations about Dr. Heavenly's husband Dr. Damon.
Dr. Simone and Cecil consider being intimate again.
And Dr. Jackie realizes she still has trust issues with Curtis.
Here's a recap of "Get Your S*xy Back."
Click next for the details.