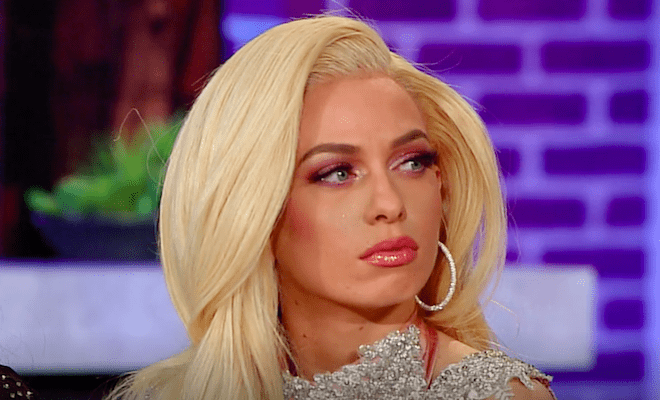 Safaree finally shows up.
He finds a place to sit on the stage.
"I had a family emergency." – Safaree
Nina asks Safaree if he has any real friends on the cast. He says friends is a deep word. While he's "cool" with Juju, they aren't close.
They immediately discuss the blowup Safaree had with Joe.
Joe says he has no ill will towards Safaree. He now feels like maybe he and Safaree never had a real friendship. Meanwhile, Safaree accuses Joe of turning up for the cameras.
Cyn tries to interject, and Safaree tells her to stay out of it.
Safaree doesn't back down.
He then tells Joe they can throw hands at the hotel.
"You a clown, n*gga." – Safaree
Cyn says all they wanted was a heads up to keep things peaceful.
Safaree says he doesn't understand what the issue is because when Cyn and Joe saw Erica at the resort, they spoke.
Remy and Yandy say they understand why Safaree didn't tell people Erica was in Costa Rica. He wants to keep things private.
Jonathan then says it's a different situation when multiple people aren't cool with your significant other. In that case, people do need a heads up.
Nina says Safaree has to remember that he is the one who signed up for a reality show. So he can't have the privacy he wants.
Kimbella then asks why Erica is being brought up so much. She wonders if people are trying to bring Erica back on the show.
Cyn says that she and Joe wish Safaree the best. She doesn't have beef with Safaree even though she's a bit hurt how things went down. He says the feeling is mutual.
Rich and Safaree's beef is then discussed.
Safaree says he didn't tell Rich he was dating Erica because he didn't really want to tell anyone.
But Rich feels like he and Safaree were cool enough that Safaree could have been honest. He then says that Erica has had many men after him, so it's not really that deep to him.
This upsets Safaree and Safaree taunts Rich about how tight his pants are.
"We doing that?" – Rich
Rich then runs up on Safaree and the two men are restrained by security.
"That's good for TV!" – Safaree
Security then takes Rich backstage.
Yandy says that Rich is wrong for trying to embarrass Safaree.
Safaree says that he's not okay with the disrespect.
Moving on, Jonathan then discusses all the tension he had this season.
He says Anais is doing better. Jonathan is convinced she was drugged. Rich says she's moving forward.
Jonathan says that he was on all kinds of drugs when he fell out with Juju. She's not a fake person. He was just going through addiction.
Sidney then says that Jonathan is a very messy person. He snaps and says that Sidney is the biggest train wreck there. Some words are exchanged, but Rich tells both to chill out.
Nya and Mariahlynn's beef is up for discussion.
Mariahlynn says she had no plans of fighting, and Nya says that she wasn't even serious when she said, "Whoo chile."
But she warns Mariahlynn to stick to small dogs because she's a pit bull.
Mariahlynn says Nya told her she would have "100 b*tches" jump Mariahlynn. But she's ready to run them down with her car.
Things get even more tense after Nya taunts Mariahlynn about her mother's past with drug addiction.
But she tells Nya that she's a better mother than Nya will ever be.
Sidney asks Nya if she thinks she took things too far talking about Mariahlynn's mother, but Nya says Mariahlynn taunted her about the scar she received when she was jumped in the club.
Maggie and Maino open up about their relationship.
While Maggie feels like Maino can be too harsh at times, Maino says he's only trying to uplift her.
The song is brought up.
Alexis clarifies that Maino never asked her to be on the song. He just said it would be a good fit.
But she's cool with Maggie and respects their relationship.
Although Maggie wants to marry Maino, life is great and they aren't in a rush to tie the knot.
Juelz and Kimbella says that Maino has grown so much since he's been with Maggie.
Rich talks about Miracle's legal problems.
Her trial is April 19th. So they are discussing strategies.
She's facing 20 years in prison.
His daughter Ashley was willing to quit school to take care of her younger siblings. But Rich is not having it.
Remy thinks Miracle should take the plea so she won't have to be away for so long.
Kimbella gets emotional as she discusses how children are affected when their parents go away to prison.
Yandy tells Rich to make sure that he spends a lot of time with his daughter to get her through this.
Papoose and Remy talk about their new baby girl.
"I think she's a better version of me." – Remy
Their daughter isn't much of a cryer.
Remy is open to getting pregnant again next year even though things did get scary.
She had to get three blood transfusions but the couple isn't letting that scare the from having more children.
Next up is Alexis' paternity drama with Fetty and Solo Lucci.
Alexis defends putting her daughter on Medicare. She says the NCCU cost $20,000 a day for her premature daughter. So she doesn't see why people dragged her for it on social media.
Fetty is the child's father and she's over the gossip. She's happy in her life and she's also in a great relationship.
What are your thoughts on the season?
Do y'all think Joe & Cyn were this upset because Safaree chose to BRING Erica, or because he chose to LIE about it? #LHHNY #LHHREUNION pic.twitter.com/5da9kiohDo

— Love & Hip Hop (@loveandhiphop) March 19, 2019
Safaree wasn't trying to hide his girl from the world, he was trying to hide the world from his girl. #LHHNY #LHHREUNION ?? pic.twitter.com/pcdLpibk4w

— Love & Hip Hop (@loveandhiphop) March 19, 2019
Why did Jonathan have this much ammo for Sidney Starr? ??? #LHHNY #LHHREUNION pic.twitter.com/loJKthNtJ7

— Love & Hip Hop (@loveandhiphop) March 19, 2019
Mariah says she's the Ring Leader of this #LHHNY circus…

Do y'all think that's accurate? #LHHREUNION pic.twitter.com/kdzhieGIpz

— Love & Hip Hop (@loveandhiphop) March 19, 2019
Alexis clears the air on what was going on between her, Maino, Maggie, and the track he wouldn't let her on… #LHHNY #LHHREUNION pic.twitter.com/0SAA2bNj06

— Love & Hip Hop (@loveandhiphop) March 19, 2019
Remy gives some advice on Rich's baby mother's case, and he might not like it… #LHHNY #LHHREUNION pic.twitter.com/avCBAOkQtw

— Love & Hip Hop (@loveandhiphop) March 19, 2019
ALL OF Y'ALL had so much to say to Alexis about who her baby daddy was when she knew the ENTIRE TIME… #LHHNY #LHHREUNION pic.twitter.com/Fbs84mLgVs

— Love & Hip Hop (@loveandhiphop) March 19, 2019