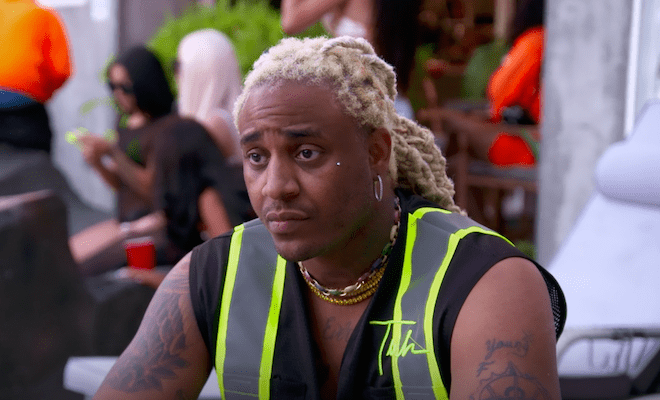 A1 has doubts.
Apryl arrives in Vegas. Paris tells her they are going to have a wild night so they can cheer Lyrica up. She's still down about A1 living his best life while she's hurting.
Princess, Ray and Baby Melody go out to dinner. Ray tells Princess he has to go to Vegas for business and B2K's last show. This upsets Princess because she feels like he works too much. So she abruptly ends dinner and storms out the restaurant with Melody.
A1, Zell, Micky, and Booby hang out. Zell tells A1 he wants him to talk to Lyrica while they are both in Vegas. But A1 is hesitant. He's not sure it won't lead to another argument. Meanwhile, Lyrica is having a wild night with dancers at the rental house.
Zell, Micky and Booby head to the house. After enjoying the action, Zell pulls Lyrica to the side and updates her about his conversation with A1. She feels some type of way about A1 not coming to talk to her. She feels a real man would have.
A memorial brings Jason's family together. 
Jason visits his siblings. They are planning a memorial for his deceased brother. He's not really close to them or his dad. Jason was raised in the foster care system because his mother was on drugs and his dad wasn't around. And he didn't have the best relationship with his mom before she passed away. He tells his siblings he knows he needs to talk to his dad because they have so many unresolved issues. But one of his brothers gets upset because he feels like Jason is bashing their father. His brother takes off his microphone and storms off. Regardless, Jason tells his other siblings he's not trying to bash their dad. He just needs to have a conversation with him.
He gets in touch with his dad. They agree to meet for breakfast but his dad never shows up.
The gang has a pool party.
Fizz and Boog show up to the group's rental house in Vegas. The pool party has started and Fizz catches up with Apryl. He tells her he's still trying to process his grandmother's death. She passed away two days ago.
Lyrica and A1 hash it out.
A1 shows up to the house with Ray J. He speaks to Lyrica and hugs her. Later on, Spectacular urges A1 to go talk to Lyrica alone. He does and they talk about their marriage. A1 tells her he was wrong but there would be no him without her. He wants to get counseling and he wants her back.
Lyrica wants some time to think about everything. But she does want them to have family time with their son Ocean when they get back to LA. This makes A1 happy and he hopes they can work on rebuilding their marriage.
Fizz and Apryl end up in bed together.
It's the day of Jason's brother's memorial. His dad didn't show up, so Jason is feeling some type of way. But his sister tells him not to hold it against his dad because everyone grieves differently.
After the group parties on their last night together in Vegas, Fizz and Apryl wake up in the same bed. Both claim they don't remember how they got there. Zell pops in and jokes about taking pictures to send to the blogs.
What are your thoughts on the episode?
View this post on Instagram
View this post on Instagram
View this post on Instagram