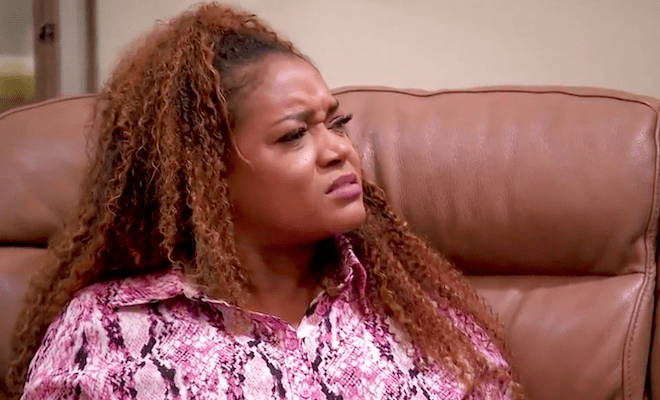 Cynthia encourages Quad.
Quad and Cynthia Bailey meet up for drinks. They talk about their divorces. Quad says it was tough to be blamed for the troubles in her marriage. Cynthia can relate and says she still gets criticism to this day.
But Cynthia tells Quad that she may meet the love of her life soon just like Cynthia did.
Heavenly prepares dinner since all of the children are home. She wants to do this every Sunday. Her daughter Alaura wants to be able to hang out with her friends more. Damon is fine with this but Heavenly isn't. She says Alaura is too young and she's just 13. But Heavenly gives in when Alaura asks to go to the movies.
Contessa and Scott have a breakthrough.
Toya talks to Eugene about the housewarming party she wants to have. She plans to spend about $10,000 and has over 100 people in attendance.
Dr. Littlejohn comes by to have another home session with Contessa and Scott. Scott says he may have guilted Contessa into quitting grad school. And he may have said some things around the kids that didn't help the situation. Dr. Littlejohn says Scott sabotaged Contessa subconsciously. Scott says that he can see this and he really is proud of Contessa for going back to school. So he wants her to go back and finish. This makes Contessa very happy. The two share a kiss.
Heavenly questions Lake's appearance.
Buffie has a spa date and invites all the women. Mariah comes with Lake and with a boot on. She says she broke her foot in Cabo. In a green screen interview, Mariah says Lake is there to help her with her broken foot. But she will have Mariah's back if need be. Heavenly anticipates there will be drama. And she will have Mariah and Lake leave if they cause any issues. Regardless, the women get on the party bus and head to a rented lakehouse.
Just a few minutes into the day, it's clear Jackie is not feeling Buffie.
The first thing the women do is get massages. Toya moans a lot and makes the other women feel a little uncomfortable.
Heavenly addresses the elephant in the room.
A yoga instructor arrives and so do the goats. Buffie wants the women to give goat yoga a try. The women aren't thrilled.
After the yoga session, Heavenly says they need to address the elephant in the room, which happens to be Lake and the accusations made about Quad.
Quad says she doesn't want any parts of this. After Toya asks what Lake needs from Quad, Contessa tells Toya not to do this. Lake says that her friendship with Quad took place before Quad had friendships with the other women. So there are things they will never be privy to.
After Contessa says that no one there will ever admit they lied about anything, Mariah asks Contessa why she cares. In a green screen interview, Mariah says Contessa is sticking her nose in something that has nothing to do with her. And Lake tells Contessa to "zip it."
After the spa day draws to an end, it doesn't seem like Buffie and Jackie have made much progress. But Jackie says she thinks things have improved between them in a green screen interview. Buffie disagrees.
What are your thoughts on the episode?
View this post on Instagram
View this post on Instagram
View this post on Instagram
View this post on Instagram
View this post on Instagram