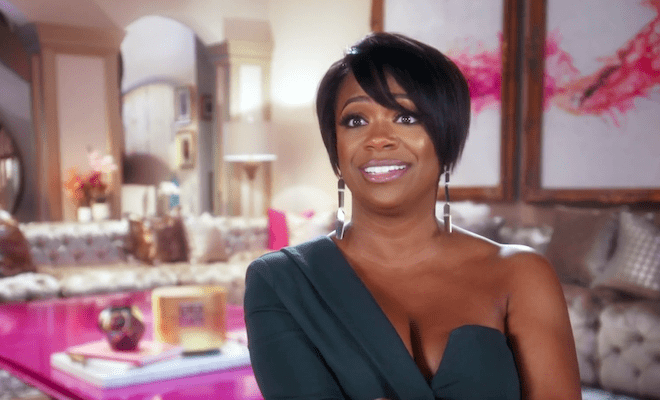 Michael prepares for court.
Eva recaps what went down in Toronto with her husband Michael. After her conversation with Porsha, she feels as if Kandi started the drama for going back to Porsha and "stirring the pot." She's convinced Kandi is an instigator.
But Eva has other things on her mind. Her daughter Marley's last name is being changed to Sterling. Marley has no idea that Michael is not her biological father. He filed for a legal name change. Eva hopes that Marley's biological father doesn't push back on this. He could show up to court and object.
Tanya is ready to get even with Kenya.
Porsha, Marlo, Kandi, and Tanya meet at the spa to get their skin scrubbed and massages.
The women discuss the last dinner in Toronto. They feel like Kenya was talking about someone in the group. Marlo says it had to be Tanya. Porsha feels this way as well.
Tanya says that Kenya has overstepped boundaries before when they talked about IVF, so she shouldn't be shy about telling her what she heard about Paul. But Tanya doesn't feel like Paul cheated on her.
In a green screen interview, Kandi says that Kenya and Cynthia told her about what the cookie lady said.
Regardless, Tanya says she may actually have something on Kenya.
She says that after the girls returned from Canada, Kenya reached out and said that she left something behind. She wanted Tanya to bring the package back with her. Tanya opened up the package to make sure it wouldn't be held up in customs, and it was Kenya's phone charger and a wig.
In a green screen interview, Porsha says Kenya has always bragged about her hair always being hers. Producers then flashback to multiple scenes of Kenya saying her hair is real.
Porsha then states that Kenya is probably a frequent shopper of Go Naked Hair.
Tanya tells Kandi she can take the wig back to Kenya. She pulls it out so everyone else can see it, much to Marlo's delight. Kandi demands that Marlo hands over the wig after Marlo puts it on.
Dennis still has a lot to prove.
Eva calls Cynthia en route to the courthouse. Her mother told her that her ex posted on Instagram that he was in Buckhead. She's fearful he will show up to court.
Porsha updates Diane and Lauren. She confirms she's engaged again and Dennis wants to talk to both of them. Diane wants to know for sure that Dennis won't hurt Porsha again.
Lauren tells Porsha not to lose sight of actually fixing the relationship.
Kenya is ready to pounce on Tanya.
Things go great in court. Eva and Mike were able to legally change Marley's last name to Sterling. Eva gets emotional after they walk out of the courthouse.
Kenya, Cynthia, and Kandi meet up. They discuss the cookie lady situation. Cynthia said that she did talk to Tanya about what they heard a day after the spa outing.
Kandi hands over Kenya's wig and says Tanya told them about Kenya leaving the wig in Canada. Kenya feels this was disrespectful and Tanya was trying to embarrass her.
Kandi brings up what Tanya said about Kenya talking to her about getting IVF, and Kenya says that they first met over IVF. And Tanya says she was happy that they talked about it. Cynthia backs this up and says Tanya is "reaching."
Kenya goes in and says that the Cookie Lady looks better than Tanya. And she has something for Tanya because she's the "Shade Assassin."
Dennis hashes things out with Diane and Lauren.
When Tanya catches up with Kandi, Eva, and Cynthia at Marley's last name celebration, they discuss the wig situation. Kandi says Kenya is upset about it and she never said whose man she was talking about. But Tanya feels like Kenya was messy first.
Dennis comes over Porsha's place to talk to Lauren and Diane. His mother Gina is there as well. He apologizes to everyone and says he knows he has more work to do. But they are a family so they must stick together through the ups and downs. He doesn't like that Lauren and Diane blocked his number. This makes it hard for him to check in on PJ when they are babysitting her.
Porsha says that this was done because he hurt her. And these are the consequences of his actions.
Lauren says it was really hurtful because she talked to him a lot about her baby's father cheating on her while she was pregnant.
Diane hates that Dennis messed up and made Porsha another statistic as a baby momma after they broke up. Porsha says that she didn't get any support from Gina after he cheated on her. Especially since she was on Porsha prior when she felt like Porsha did Dennis wrong.
Gina says that she fussed Dennis out every day after she found out what he did.
Both Dennis and Porsha break down in tears and say they are committed to working on their relationship. In a green screen interview, Porsha says she's never had a man who cares so much about having a strong relationship with her family. So she really appreciates Dennis.
What are your thoughts on the episode?
View this post on Instagram
View this post on Instagram
View this post on Instagram
View this post on Instagram
View this post on Instagram