By: Amanda Anderson

Lady Gaga may have the found huge success in the world of Pop Music, but she definitely has not found a fan in India Arie. Arie took th her Twitter account to express her disappointment in Lady Gaga's need for continous shock value and her lack of social responsibility.
Peep the tweets: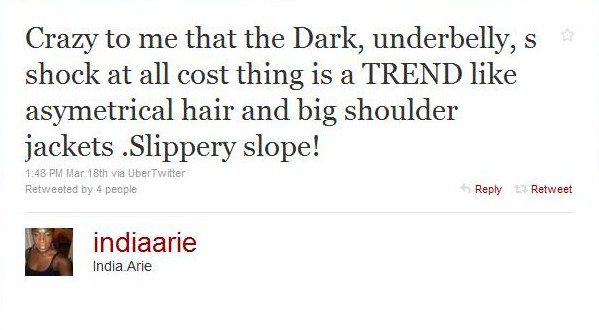 I know a lot of Lady Gaga fans are livid about this, but I honestly think India Arie was just expressing her opinion. Some are even saying that's she just jealous of Gaga and others like Rihanna, who seem to use edgy images to obtain industry success. Rather she is in the spotlight or not, India Arie has enough talent for 95% of the women in the music business. So what if she wants to rant a little on Twitter? It doesn't change the fact that she is an amazing artist, nor will it stop Lady Gaga's monstrous success.
I say, Tweet on India…speak your mind. Isn't that what Twitter is for?