Chris Brown did not go out like a punk, as many in #TeamBreezy would say, when he cleverly responds to Brian McKnight on Twitter.
By: A.J. Niles
Brian McKnight may be 'bout this life, but he may not want to go toe to toe with Chris Brown on twitter.
Chris did not take the shots fired by Brian McKnight in his direction lightly, throwing back even sharper barbs on his Twitter page.
(Read from the bottom, up.)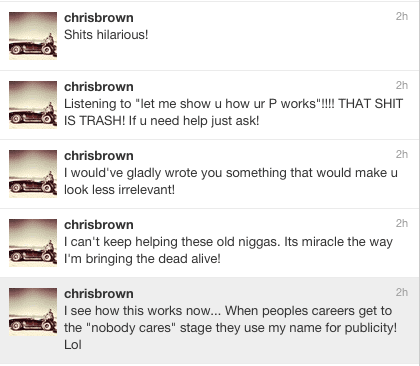 As it was reported earlier, Mcknight, who goes by the Twitter handle @ItsBMcKnight, vented his frustrations on the website after receiving many negative criticisms for his adult mixtape and subsequent singles An-l and If You Are Ready To Learn. McKnight held back no punches on his Twitter Feed as he threw back jabs that were just as sharp or sharper than anything he received.
He recently released a song from his new adult mixtape called If You Are Ready To Learn. This song featured the chorus, "Let me show you how your p-ssy works."
If You Are Ready To Learn received negative acclaim after it went viral and spread like wildfire all over the internet with the help of the porn website YouP-rn.com, which asked him to record a song.
Chris Brown has been receiving shots from other artists as well. He threatened to sue former B2K member Raz-B for saying he is a homosexual on Twitter. He also took shots from Rihanna and Maybach Music Group artist Meek Mill.