Producer The Dream is so excited to be hanging around A-List actresses that he does not mind taking the blame for their "racist" Twitter antics. Surprise surprise,  The Dream says he is behind Gwyneth Paltrow's racial slur that left everyone on Twitter appalled.

By: Amanda Anderson-Niles
Academy Award winning actress Gwyneth Paltrow may have just tweeted her way into some unnecessary controversy.
During a recent trip to Paris to see pals rappers Jay-Z and Kanye West perform at one of their shows for the Watch the Throne tour; the actress got so caught up in the moment, she forgot not to let her awkwardness around black people to show. In just one tweet, poor Gwyneth went from beloved Oscar-winning actress to racist bigot and totally insensitive to Hip Hop culture. These are just some of the unfortunate labels given to the actress after she tweeted about her attendance at the recent leg of the Watch the Throne tour. A recent reply tweet to The Dream, who had just tweeted a picture of the actress dancing on stage,  has the actress currently in an unfavorable light with the general public: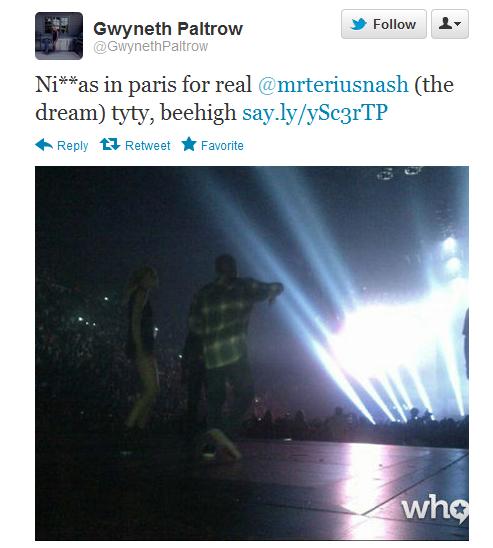 Although the singer quickly took to Twitter to remind her followers that it was only "the title of a song," critics immediately began to slam the singer and questioned if it is ever okay for white celebrities to publicly tweet a word that invokes so many dark feelings for African Americans.
Producer and singer The Dream stepped in and decided to take full responsibility for Gwyneth's big no no. And by full responsibility, we really mean he lied and said that he tweeted Gwyneth's response himself.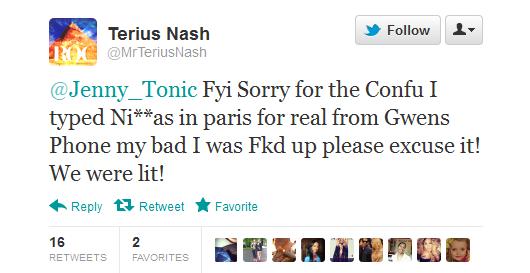 Of course no one really buys this because no one can see Gwyneth being that cool with The Dream to the point that she'd let him snatch her phone and send tweets that totally make her look like a racist.
Another question one has to ponder is why are we so quick to get outraged about a white actress using a term that we feel so comfortable enough to use ourselves that we even used the world in the title of our popular Hip Hop songs?
Does a few asterisks really remove all the history attached to one of America's most disturbing words, and suddenly make it okay for a white woman to tweet it for the world to see?
And where was the same outrage when we all learned that Kanye West and Jay-Z, two of Hip Hop's biggest artists, were releasing a single called "N-ggas in Paris?"