After rumors and fake tweets got back to Cher, Chris Brown decided to take to Twitter to set the record straight.
By: Amanda Anderson-Niles
Twitter continues to reign as the most dangerous place for celebrities and black suburban teenagers with the fascination of recording their fights and uploading them to Worldstar Hip Hop like idiots. It really seems like every week there is a new celebrity Twitter Beef, but no one seems to have more Twitter Beefs in a year than singer Chris Brown has had in the last few weeks. Chris has beefed with everyone from ex girlfriend and singer Rihanna, new and upcoming rappers, and even old school R&B singers past their prime. Chris is most likely the usual target for Twitter rants because the way he reacts to the Twitter drama always tends to be newsworthy.
Recently, legendary singer Cher was made aware by a fan that a Chris Brown impersonator (unknowingly to her) had threatened to beat her on Twitter.
The fake Chris Brown apparently took a very threatening shot at singer over her supposed view of politics:
"That damn GRANNY b–ch CHER needs to keep her mouth SHUTTTT about her opinion against obama !!! smh she needs a beating."
When one of Cher's fans decided to let the singer in on what the fake Chris Brown warned he was going to do to her, she colorfully responded:
When Chris Brown got word about the false account and threats made under the impersonator, he reached out to Cher on Twitter to clear things up: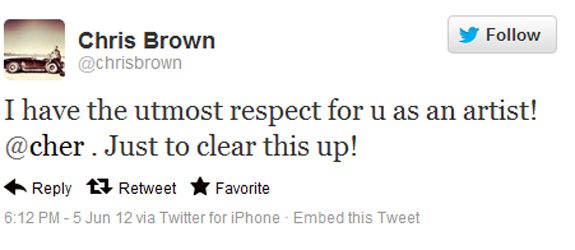 It is great to see Chris actually taking to Twitter to clear up rumors himself and actually turn the situation into a positive one.  Twitter may be known for beefs, but it is also the fastest and most effective way to diffuse false information that could lead to bigger problems outside of the social network.
Perhaps now he can lay low on the Twitter Beefs, at least for now.