Just when we thought Rihanna wouldn't get involved in the Chris Brown and Drake beef that escalated into a bar brawl, she throws shade on her Instagram account.
By: Amanda Anderson-Niles
As the recent drama that took place between Chris Brown and Drake continues to simmer down and head into legal dynamics and pending criminal charges (possibly), Pop sensation and superstar singer Rihanna has been extremely quiet, and publicly disinterested in the scandal that has left many injured and Drake possibly looking at catching a charge or two. While there are numerous reports regarding what caused Chris Brown and Drake to come to blows or bottle tossing in the clubs, most speculate that the two celebrities are in a nasty beef because of Rihanna. Chris Brown had a very nasty and violent end to a serious relationship with the young singer, while it has been speculated that Rihanna dated Drake for a short period of time in the past, after she and Chris called it quits. A few shady tweets and questionable mix tapes later, a beef between Chris Brown and Drake has escalated into a bar fight that left Brown's bodyguard in the hospital, and left him with a nasty gash on his chin.
While Rihanna played coy with the Paparazzi when asked about what she thought about the club drama, she might have  made her opinions very clear on her Instagram account.
The other day, the Rihanna Navy exploded when Rihanna's recent liked photos started to look a lot like shade to rapper Drake:
(Photo Credit: GlobalGrind.com)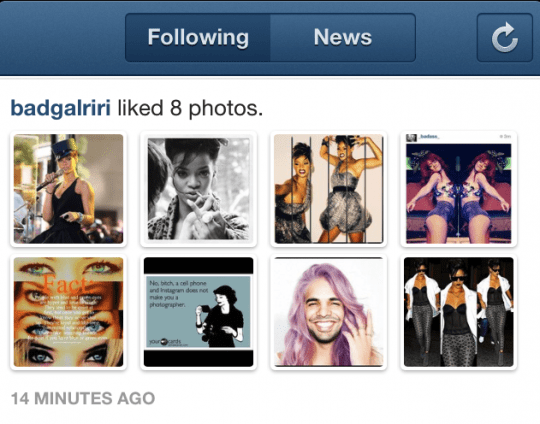 She also liked a few photos some of her fans uploaded that showed Rihanna and Chris Brown in happier times.
While she may not have officially said much about the bar mishap, her Instagram activity shows Rihanna might agree with most people who fault Drake for the all the violence that transpired in the nightclub that night.
In related news, sources tell RadarOnline.com that Chris and Rihanna were indeed together after the bar spectacle:
"Chris and Rihanna hung out at Jay-Z's 40/40 Club all night and it was clear that she loved the attention he was giving her.

"Those two have a thing for each other that will never die, no matter what, and they're on their way to really being back together.

"Chris just adores her. And she tended to him, making sure the gash on his chin from the fight was okay."