Shaunie O'Neal is tired of people asking her who got fired on Basketball Wives. So stop asking.
By: Amanda Anderson-Niles
The fourth season of Basketball Wives has been anything but anything but a classy one, as most of the cast has undergone much deserving criticisms for one of the most violent seasons yet. From the bottle tossing to heinous verbal attacks from the regular bullies of the cast to the more peaceful ones, the bulk of former supporters are now calling for Executive Producer and ring leader Shaunie O'Neal to pull the plug on the shenanigans that has left most African American women embarrassed. When the internet became crowded with online petitions and the more prominent of African American celebrities began to speak up and call for change, Shaunie's back was eventually pushed to the wall like never before. Although the reunion ended on a peaceful note with the much needed makeup of once close friends Evelyn Lozada and Jennifer Williams, Shaunie was still criticized for not doing enough to bring peace to the cast sooner. Although Shaunie has already signed on for another season of the reality television train-wreck, all of the cast-members are not a definite for next season.
In a recent interview with The Insider, Shaunie revealed that it is three cast-members she'd liked axed from the show to take the franchise into a more peaceful direction. While she did not name any names in the interview, reports surfaced on TMZ that claimed she had given Jennifer Williams, Royce Reed, and Kesha Nichols their walking papers from the show. The reports outraged critics and supporters alike, as the 3 most mature and non-violent of the cast were said to be given the boot for not being ratchet enough for ratings.
As we recently reported, Shaunie took to her Twitter account to deny any of the firings, but the majority of the urban gossip blogs continued to run with the reports despite Shaunie's Twitter claims.
Apparently, this has made Shaunie extremely frustrated, as her latest tweet revealed she got into a pretty nasty spat with a disappointed fan on Twitter…and she kind of went in: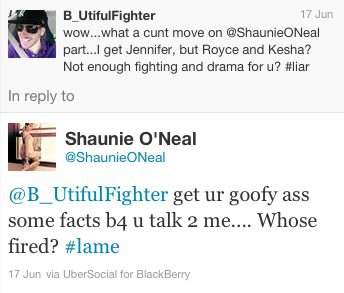 Looks like Shaunie can't take the same negativity her trashy reality series churns out during each episode.