After the explosive premiere of Love And Hip Hop Atlanta, rumors resurface painting Memphitz, husband to Toya Wright, as K. Michelle's abusive ex boyfriend. 
By: Amanda Anderson-Niles
Love And Hip Hop Atlanta started off with a bang and plenty drama to keep most viewers talking well after the ending of the first episode. While we were introduced to the typical drama from struggling singers, overbearing mommas and momma's boy rappers, and too loyal baby mommas and girlfriends; the background stories behind the cast-members are way more interesting than any drama invented for the television series. And while the much-anticipated premiere came off heavily scripted and over processed, the new cast has enough drama in their bios to make turning away from the reality show too difficult for most.
One of the breakout stars of the show will be struggling R&B singer K. Michelle. The young singer had so much promise a few years ago, but that promise ended shortly after a bad relationship that eventually turned abusive. After meeting an industry man who promised her everything, K. Michelle found herself with absolutely nothing and no more money left in her million dollar budget she was given as a new artist. Though she got the deal with Jive Records through this man, K. Michelle claims he became abusive and blew through the money and left for her for another woman.
K. Michelle claims the man used the money to buy her breast implants, and purchase himself jewelry. As the abuse continued, those at her label did nothing, and asked her to continue working despite the turmoil her relationship was causing in her life.
Her bio reads:
Thanks to a chance run in with fellow hometown native MeMpHiTz, Michelle got the big break she needed. During a trip to Jive's New York offices, she spotted MeMpHiTz in the hallway wearing a "901" chain, symbolizing the area code of Memphis. "I introduced myself to him. I had nothing to lose," remembers Michelle. "He asked me what I was doing there trying to get a record deal without him." A week later, now under the Hitz Committee Entertainment, K. Michelle wowed executives and received a deal. "God knew I needed somebody that could understand my struggle and develop me into a better artist. MeMpHiTz is the best person to work with me."
A couple of years ago, Toya Wright (ex-wife to Lil' Wayne), and Memphitz were forced to defend their relationship after K. Michelle took to her Twitter account to accuse Memphitz of beating her while they dated.
Rumors also suggest that Memphitz actually dated K. Michelle while he was romantically pursuing Toya. K. Michelle eventually called things off when she got tired of the physical abuse and Toya and Memphitz eventually got married a couple years later.
But the scandal does not end there, since K. Michelle claims Memphitz took all that was left of her deal money and courted and purchased a house for Toya.
Ironically, Memphitz and Toya were celebrating their one year anniversary around the same time as the show's premiere last night. Although they decided to travel to Paris to celebrate, Toya made sure she took time to use her Twitter page to throw a little shade to K. Michelle: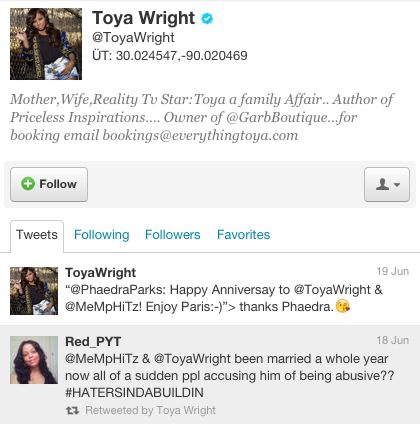 Memphitz has been denying the accusations since they first surfaced on the internet two years ago. However, K. Michelle continues to stand by her claims, although she did not name her abuser in the season premiere.