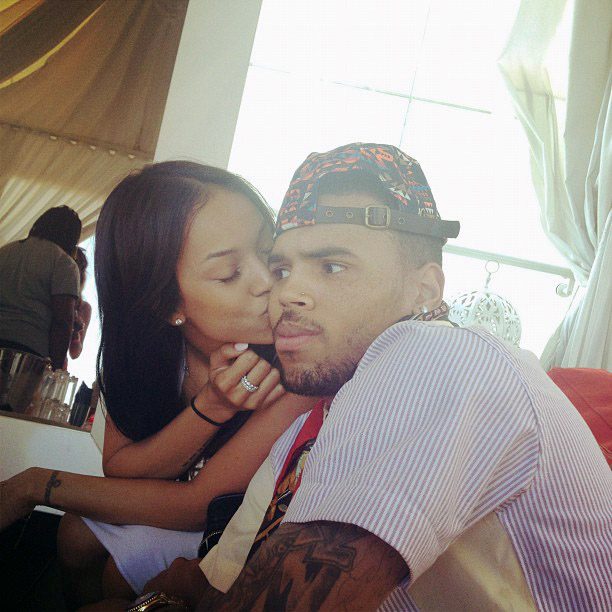 After Mediatakeout and the other blogs reported Chris Brown is expecting a bundle of joy with girlfriend Karrueche Tran, the singer's spokesperson shuts down the rumors.
By: Amanda Anderson-Niles
It has been a crazy couple of weeks for singer Chris Brown. The young singer and international heartthrob had a nasty bar brawl with Hip Hop sensation Drake that left he and his bodyguard injured and needing stitches; And no matter what he does, he can't seem to separate himself from his equally famous ex girlfriend Rihanna. Although most exes can find a way to detach themselves from their old flames, it's virtually impossible for two celebrities who have unwillingly become the symbol of domestic abuse and its consequences in the public eye. As Rihanna continues to rebel against being anyone's role model. Chris Brown continues to find difficulty in shedding his bad boy image. And it does not help that his recent violent interaction with Drake is rumored to be over Rihanna, and the quick relationship she had with Drake.
Despite Chris Brown's inability to publicly separate himself from Rihanna, the young singer does appear to have a steady girlfriend. In fact, he has been in a serious relationship for well over a year with an aspiring model named Karrueche Tran.
Tran is not safe from the clenches of the urban gossip blogs, as she has already met the same fate as others in the spotlight, since she has already been said to be a recovering crackhead and certified groupie from most urban gossip enthusiasts.
But the latest rumor involving the couple paints the two as parents to be. As reported by numerous blogs yesterday, it was revealed that Karrueche Tran is pregnant.
While most of the blogs ran with the rumor, Chris and the aspiring model said nothing. However, Brown's spokesperson has come forward to shut down the false reports with RumorFix.com:
Well there's no need to worry MTO, because as anyone with a brain larger than a rabbit's would have guessed, Tran is not pregnant. A rep for Brown confirmed that the pregnancy report is bogus.

Not to be outdone, RumorFix also did a little more digging and discovered the image of Tran floating in a pool is an image taken over three months ago, meaning, the picture is not recent contrary to MTO's claim!
This is not the first time MediaTakeOut has been accused of making up stories for clicks. And most likely, it will not be the last either.