By: Amanda Anderson-Niles
A NeNe Kandi fight?! My oh my, the rumors for the upcoming season for RHOA may be more interesting than the actual fifth season will be. So what's the latest? Well according to the NY Daily News, NeNe Leaks and Kandi Burruss were said to have a nasty scuffle and fight on film with the production staff (not each other). While the staff saw the reports late afternoon, it was MTO's headliner story, as usual. They reported that their "source" has indeed tipped them off to the same exact information the NY Daily News printed first. And we all know what that really means.
Well, anywho, we're located in Atlanta and we've been trying to get some answers since we just found the reports too hard to believe. Neither Kandi nor Nene are the violent types. But here's what we were told by someone very close to the production staff:
"There was absolutely no scuffle, and there's nothing on film either. Somebody made up a lie for [blog] clicks, and everyone else ran to publish the same lies. Neither Kandi or NeNe would even do something like that anyway."
And since even sources can lie, we figured we go to the real sources, Kandi and NeNe and check out their latest tweets. Looks like there was no fight between Kandi and NeNe: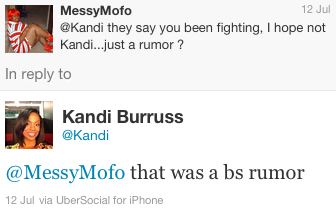 So there you have it. We didn't believe the reports when we got wind of them yesterday either because we all know that Nene Leakes won't be caught dead fighting on camera if it's going to mess up her money. And we completely understand that.