And the Erica and Buckeey drama starts. So what does Erica think about Buckeey dating Lil Scrappy? It was finally revealed that Lil Scrappy is dating Buckeey (who now wants to be called Shay Johnson, but we're stil calling her Buckeey) again on last night's episode of Love And Hip Hop Atlanta. As we revealed first (weeks before the episode even aired), Lil Scrappy broke up with Erica to be with Buckeey despite Erica's commitment to making the on and off relationship finally work. Scrappy told Erica he was leaving her due to her inability to show "affection," but our sources in Atlanta told us weeks ago he really broke up with Erica because he had been smashing Buckeey for weeks behind Erica's back. These same sources also revealed to us that Joseline got an abortion weeks before the third episode, and most recently shared that Stevie J. is allegedly addicted to drugs.
But nothing beats having a source than getting juice straight from the mouths of those involved. And there's nothing juicier than learning of Erica's true feelings about losing Lil Scrappy again, out of all people to Buckeey. Her reaction shouldn't come as a surprise, considering we all learned of Buckeey's existence for the first time when she was f-cking Flava Flav on national television. So we already know the kind of chick we're dealing with here.
Regardless, Erica's reaction was quite hilarious, and we're sure not too many people can disagree with the sentiments she aired on her Twitter account last night: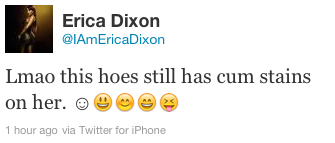 And of course, Buckeey felt the need to eventually respond:
And this isn't the first time Erica has expressed her disgust with Lil Scrappy's choice to be with Buckeey. In a recent interview with The Breakfast Club, when asked how she felt about Buckeey:
"He [Lil Scrappy]  actually tried to get me to be friends with her… But that's just someone I wouldn't hang with."
Lastly, Erica was asked if she thought Lil Scrappy had sex with Buckeey:
"I mean he might have had [sex with her]. Who hasn't?"
Ouch. Is it just me or does anyone else think Lil Scrappy stays losing when it comes to females? Erica has an education, a great job and career as a medical coder and biller, and she's now a first time home buyer. And she's a real beauty. Diamond was a user with a terrible reputation in Atlanta, and Buckeey is a certified reality TV tramp who's willing to do anything for 15 minutes who wears 15 pounds of Yaki Weave and a purchased booty to seem "attractive." The last time we saw her, it was in a bootleg sex tape. I have a feeling she'll bounce again when Lil Scrappy becomes just as irrelevant as he was before the show. I like Lil Scrappy, but I can't get down with a dude who literally sh-ts on the one chick who seems to be down for him despite his financial shortcomings for the chicks who only want him when he has a little change and blog relevance.