By: Taren Vaughan
So the Erica and Momma Dee beef has begun. Momma Dee plays no games when it comes to her son Lil' Scrappy. First episode in, she damn near lost it after the subject of Lil' Scrappy dating Diamond came up. She didn't say she would put Diamond in her trunk like she would Tami Roman but she did have a pimp flash back when Diamond's name was mentioned. It seemed like Erica and Scrappy were working until Shay "Buckeey" Johnson popped into the picture, having people wondering if Lil' Scrappy and Buckeey were dating again and who was it that Scrap was really checking for. And surprisingly (well, not really), Momma Dee encouraged Scrappy to continue pursuing Buckeey, thus igniting a beef with Erica.
Despite Erica defending her love for Scrappy, Momma Dee claims that Erica is not affectionate enough towards him. Doesn't kiss his a– enough I guess. And she went back and forth with Erica in a crazy beef on this past episode about her not taking Scrappy to the hospital when he was having an asthma attack. Most people think Momma Dee babies Scrappy entirely too much, beyond what most mothers do to their children.
But do you think she gives a damn? Nope, not a one.
Momma Dee took to her Twitter account to say that she will always defend Scrappy, even if he is dead wrong whether you like it or not: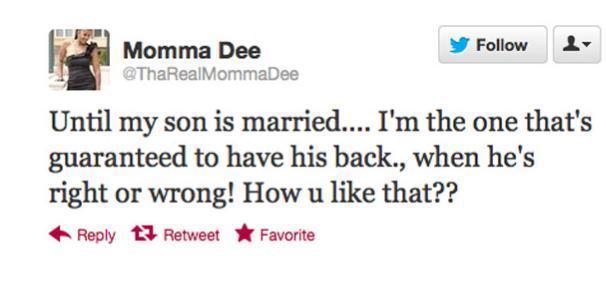 Shade thrown at Erica? Probably so.
No two ways to put it…Scrap is a certified momma's boy times ten. And if Momma Dee isn't feeling whoever he brings home, it's a wrap. Meanwhile, most would say it's rather tacky for Momma Dee to beef with Erica, the mother of her grandchild.
And this folks is the reason that the best Lil Scrappy will ever do is Flava Flav's leftovers.