By: Taren Vaughan
After the infamous fight and dramatic argument about leaving Scrappy "for dead" went down, it's safe to say that Erica Dixon and Lil' Scrappy's relationship has just about as much drama surrounding it as Mimi and Stevie's does. Only it's a former pimp and an ex Flava Flav groupie instead of a stripper turned singer who has come between them. Trying to hold her baby's father down despite all the shadiness, Erica's efforts still weren't good enough according to Momma Dee who from Day One has been on her case hard about her lack of romance towards Scrappy, even shading Erica on Twitter for not having her son's back at all times. Momma Dee may have thrown a little shade her way but Erica admitted in her interview with Jasmine Brand that she was a good grandparent to her daughter and that she loved her. With all that said though, she did say that Momma Dee has real mental issues, some that require drugs:
"I love her, I just don't like anything about her. She's a great grandmother to Emani when she's on her medication. She really is on medication for like schizophrenia, suicidal attempts, bipolar… It's a couple of things."
Apparently on the first episode when Erica asked Momma Dee had she taken her medication that day, she was dead a– serious.
On the subject of Lil' Scrappy's past relationship with Rapper Diamond, Erica said that she was beyond hurt, especially since Scrappy lied about the whole thing when she asked him what was up:
"We were on and off when I found out about Diamond. You know how you break up but you kinda know you're gonna get back together. And Scrappy does that all the time, he'll go do something, he'll step out and mess with another female and then try to come back and say he wants to get me back. I'm like you can't keep doing that. But I called him because I heard some rumors about him messing with the lil' girl from Crime Mob. And these are the same kids that he used to ask me about giving them advice on their music career. He said it was a lie but the next thing I know I'm seeing pictures on the Internet, people are calling me like 'look look look'. So basically karma just came back around on him, like this is how you did me and thats how she did you."
Finding out about Diamond was tough for her but discovering that Scrappy was kickin' it with Buckeey behind her back didn't faze Erica as much because she knows that Scrap is putting on for the show, and what those two have is nothing serious. One thing she definitely wants him to do though is stop playing games and make some decisions:
"I didn't have any idea that type of relationship was going on. Hell to this day it's not real to me. It's all about image, Scrappy is all about making himself look a certain kind of way. Ultimately, I think she was the one getting hurt because she felt it was something more, but I know Scrappy and I know how he does things for show. I giggled when I saw that scene because it was funny. Even when she asked him would he have her back like he has mine, she shouldn't have to question that. And I'm watching it saying to myself here he has yet to even tell Erica that he didn't want to be with me, but here he is telling this girl that he's not with Me. Are you serious? He's all over the place. Do you wanna be with me or her, make up your mind."
Erica isn't trippin' hard on this whole Scrappy Buckeey relationship because, like with the Diamond situation, she knows that b-tch Karma is real and she is most definitely not a hater: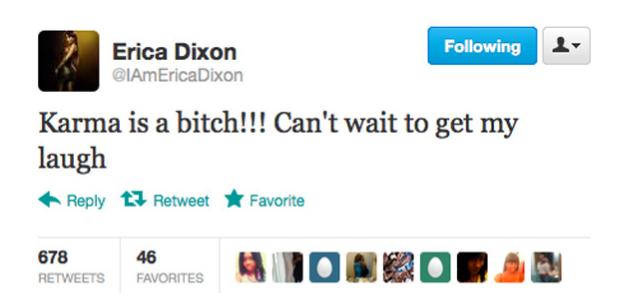 From the cheating to supposedly leaving her hanging after a miscarriage, a tidbit that we picked up from Monday night's show, Erica has been through a lot with this dude. She's no Mimi, who should have dropped Stevie J.'s whoring a— a long time ago. Erica tends to stick to her guns a lot more than Mimi does. But it appeared like she genuinely wanted things to work out between her and Scrappy. Not just for their daughter's sake but her own personal reasons as well. And obviously, he was too at one point since he has proposed to Erica before, a proposal she rejected because she thought Scrappy wasn't mature enough at the time. However things finally end up between these two one thing is for sure and that is that even if they aren't together, Scrappy won't be skipping out on child support. Because judging from the clip of the upcoming episode, Erica's mama isn't even having that.