By: Taren Vaughan
Now we told you that this Azealia Banks and Nicki Minaj thing would get more interesting as time passed and it just has thanks to Azealia. Azealia Banks got bolder today on Twitter. As she got the last word, or tweet rather, during the alleged mini Twitter feud going on between her and the Head Barb in Charge Nicki Minaj over Nicki making Azealia out to be a 'delirious b-tch' for lying about being invited on tour with her, Azealia must not have thought that was good enough though because she went after Nicki again on the social network. Only this time instead of subtweeting about her, Azealia went straight for the kill and sent a tweet directly to Nicki.
Banks tweeted yet another response to Nicki dissing her over the tour invite. This time though, she made sure there was no confusion as to who her tweets were meant for: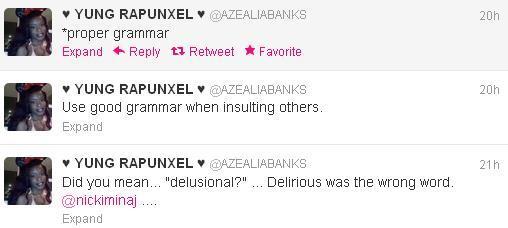 Yep, that was definitely a message straight to Nicki.
Topped off with a sarcastic shout out to Team Minaj too, thanking them for the pub at no charge:

Azealia Banks may be a new face in the rap game but that hasn't stopped her from talking sh-t to or about other emcees and delivering her opinion regardless of how people take it. And although Nicki Minaj is more popular than her and has a band of Barbz and Kens behind her ready to take down anyone that even thinks about going after her, Banks doesn't seem to be at all fazed or threatened by that. And she just let Nicki and her fans know it.
Waiting to see just how Nicki will respond to Azealia. We all know it is coming sooner or later.
We'll keep you posted.