By: Amanda Anderson-Niles
K. Michelle and Toya just can't resist throwing shade to each other on Twitter and interviews these days. Ever since K. Michelle revealed that Memphitz abused her, Toya has gone into defensive mode and occasionally uploaded some pretty apparent shade worthy pictures to her Instagram account. It's to be expected since K. Michelle has put her marriage and husband in a negative light, but some would say that Toya might have taken things too far by finding fault in a woman who is the alleged victim in an abusive situation. Now since it's evident that Rasheeda and K. Michelle are now beefing over K. Michelle's comments regarding Toya's husband on the show, it seems like the Toya and K. Mchelle beef just went up a few notches. But it didn't help that K. Michelle told Toya to "shut the f-ck up" a few days ago during a Love And Hip Hop Atlanta question and answer segment.
Toya refuses to believe that Memphitz abused K. Michelle and turns out that it's because she doesn't have any physical "proof." When some of K. Michelle's fans and supporters asked Toya rather or not she knew that Memphitz threatened K. Michelle's son, Toya responded: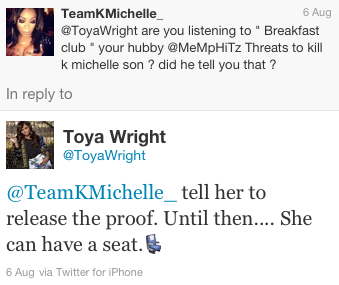 I have a feeling K. Michelle and Toya won't be squashing their beef anytime soon.