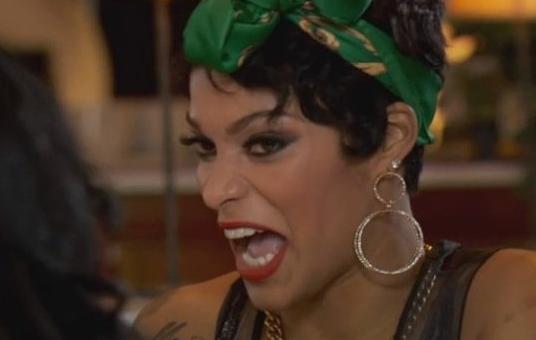 By: Taren Vaughan
Joseline Hernandez has definitely earned her title as a reality TV show star from her antics on Love and Hip Hop Atlanta. We could always count on Joseline to hold no punches when it came to saying what was on her mind. And on the reunion show episodes, Joseline and Mimi had a few harsh words for each other, with much of their convo revolving around Stevie J. Joseline's relationship with Stevie had viewers going as it got more twisted with every episode. Although her and Stevie J. have had their fall outs, it is almost a given that you can catch these two out and about together, doing interviews together, partying together and enjoying each other's company. One of Joseline's followers on Twitter  just so happened to spot the LHHATL star in the airport in Atlanta with Stevie J. And according to the follower, Joseline was not very pleasant to her and that Stevie was looking more like a sidekick than a pimp:
Of course Joseline peeped what the follower tweeted about her and wasted no time addressing her:

Joseline's response gave the Twitter follower even more fuel to go in on her again:
The tweeter also said that Joseline need not forget where she was before all her Love and Hip Hop Atlanta fame:
Oh, and she gave Joseline's fans a piece of her mind too:
The way Joseline sees it though, she has always kept a sense of humility even after she got her chance to shine:
Joseline added that a "Real" fan would have waited for her to finish eating to get a pic and that she is a human, not a robotic machine:
Joseline ended the tweef by shouting out her true fans as she headed off to the VMAs:
Clearly both Mimi and Joseline have no problem getting it poppin' on Twitter from time to time.