By: Taren Vaughan
Does Atlanta Housewife Phaedra Parks have a criminal past of her own? Not nearly as drama-filled as Love and Hip Hop Atlanta, The Real Housewives of Atlanta definitely still had its share of it, some of which cast member Phaedra Parks found herself apart of from time to time. While Phaedra didn't find herself about to go blow for blow with anyone on the show, there was much chatter about her pregnancy and the criminal record of her husband Apollo Nida as Apollo served 5 years in jail for racketeering. This was something that Phaedra caught a lot of heat over with her being a lawyer married to a convicted criminal. However, a woman by the name of Angela Stanton claimed that Apollo wasn't the only one with a criminal past. Stanton, author of a tell-all book titled "Lies of a Real Housewife: Tell The Truth and Shame The Devil", claimed that Phaedra ran a crime ring with her husband and husband's brother in an interview that she did with Vibe Magazine earlier this year, an interview that Phaedra sued Vibe for. And according to Stanton's allegations, everyone involved with the racketeering scheme ended up in jail except Phaedra. Apparently Phaedra once claimed that she didn't even know who Angela Stanton was. Yet Angela says that Phaedra definitely knows her, especially since Phaedra follows her baby's father on Twitter. And she also throws in that Phaedra's Twitter account was never hacked like she claimed it was: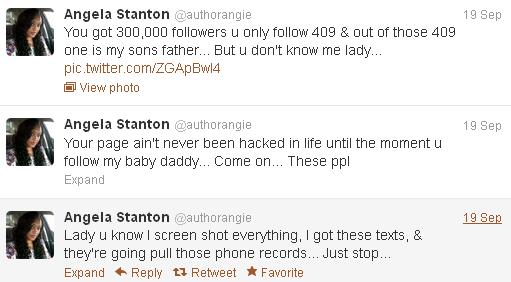 Angela Stanton seems to not be quite done yet with her attempt to expose Phaedra's alleged past as she recently took to her Twitter account to bring it up again, this time suggesting that Phaedra was involved with putting together a prostitution ring, tweeting a text message exchange that supposedly took place between Phaedra and one of the alleged prostitutes:
After peeping what Stanton tweeted, some of Phaedra's supporters came at her for trying to ruin Phaedra's image and dragging her name through the mud. Their words don't seem to matter much to Stanton though as she says that she is just trying to tell her story, one that Phaedra says isn't true:
Phaedra already made it a point to come after Vibe for publishing the interview with Stanton. But that hasn't stopped Stanton from dragging Phaedra over her alleged criminal past, a past that at this point has still not been proven true yet.