By: Taren Vaughan
Bobbi Kristina's boyfriend Nick Gordon has been all over the urban gossip blogs and other media outlets these past few days here and for a number of different reasons too. It all started off with Nick posting a picture of himself on Twitter posing with a gun, a photo that sparked even more controversy surrounding him and Bobbi Kristina.  And although Nick is Bobbi Kristina's god brother and a person that her late mother Whitney Houston cared for as her own, Nick Gordon has been rumored to be much more than that to Bobbi Kristina as the two are said to be dating each other. Supposedly, Bobbi Kristina's family members have no warm and fuzzy feelings about her and Nick Gordon as an item. Their alleged feelings towards Nick and about the whole situation may have just gotten worse after it was reported that Bobbi Kristina and Nick Gordon got into a severe car crash during a heated argument that they had with each other, a crash that resulted in an almost totaled vehicle. As more reports continued to surface about the crash that took place, Nick started to catch a lot of heat for being the driver in the accident. However, Nick took to his Twitter account to say that there was no one else in the car with him at the time of the crash despite what is being said in the media and that people seemed to be more concerned about bashing him over the crash than worrying about whether or not he was okay: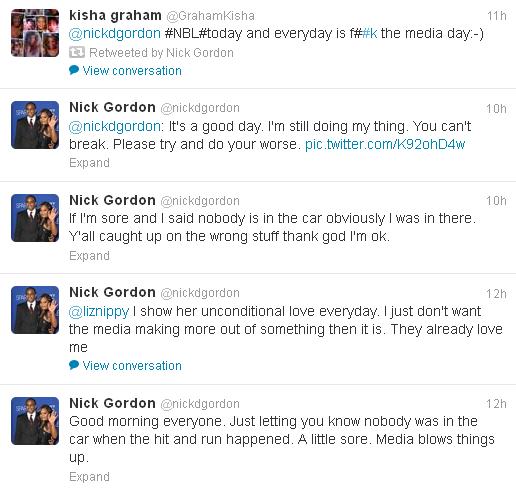 While some people went after his head over the accident, Nick did get some love from some of his followers amidst all the negativity, applauding him for being a good guy and being there for Bobbi Kristina after the loss of her mother: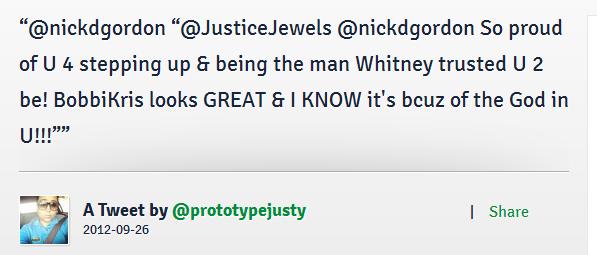 Nick Gordon has cleared up the rumors about Bobbi Kristina being in the car with him during the time of the crash but that may not be enough to keep people off his back about it.