By: Taren Vaughan
K. Michelle and J.R. Smith dating was one rumor that people were following closely. And it was one that both K. Michelle and J.R. Smith made quite believable when it first leaked as the two started to do quite a bit of obvious flirting on Twitter. J.R. Smith also made it clear too that he had never met a woman, well an ass, like K., while the Love and Hip Hop Atlanta reality TV star continued to reference her boo thang on social media networks. It looked like they were really feeling each other. But for a minute, it appeared that the romance between the two was over just as quickly as it seemed to begin after peeping a few tweets from both K. Michelle and J.R. Smith that sounded like things were getting a little rocky.
Now however some true drama has made its way into their relationship via Twitter. And it all came right after J.R. Smith was caught being flirty with women on his account. One of K.'s friends caught wind of it and decided to give him a piece of her mind. Having about enough of J.R.'s antics, K.'s friend, @GlamBarSalon, decided to call him out about it in a long string of unpleasant tweets she threw his way, with a K. Michelle tweet in the mix:
(Read from bottom to top)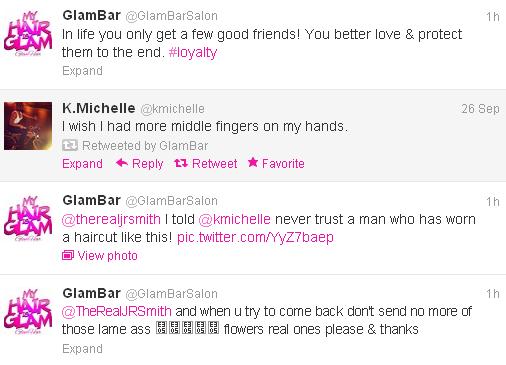 Tweets that J.R. obviously found humorous:
(Read from bottom to top)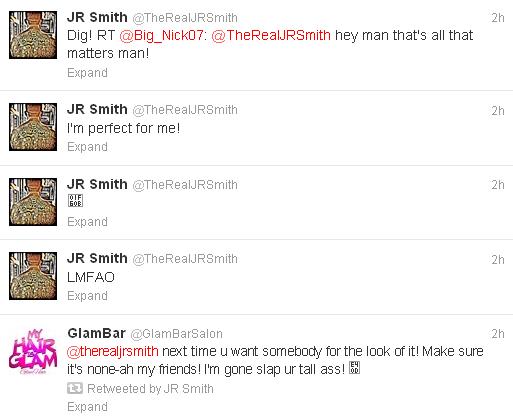 While J.R. Smith chuckled about the attack, his tweets started to get a little more serious as time passed, calling K.'s friend out for not minding her business and saying that he has no problem at all  going in on K. or her friend if necessary:
(Read from bottom to top)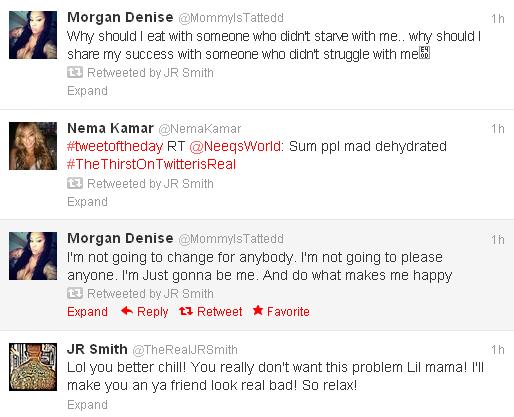 And he reminds K.'s friend that that is the reason why she doesn't have a man now:

J.R. sent a final message that appeared to be directed to K. about her friends getting too involved in their personal business:
Although her friend was trying to come to her defense, feeling like K. was being done wrong, K. Michelle  reminds everyone that she is very capable of handling her own business:

K. Michelle may have not said much in this whole thing but her friend surely didn't hold her tongue at all. And neither did J.R.