By: A.J. Niles
It looks like another celebrity is caught up in another political scandal. This time, it is Actress and Reality T.V. Star Tamera Mowry-Housley. According to sources, Tamera retweeted Fox News anchor Greta Van Susteren on Twitter during the Vice-Presidential Debate.
This retweet, which was deleted from her account a short time later caused a stir on many Twitterfeeds. Many people were instantly assuming her retweet was a passive pot shot towards Vice President Joe Biden who many conservative and Republican pundits are criticizing for being rude and interrupting the Vice Presidential candidate Paul Ryan. As a result of the attacks Tamera was encountering on the social network, her Husband, Adam Housley took to her defense and stood up to the venomous attacks.
Read the Tweets from the bottom to the top.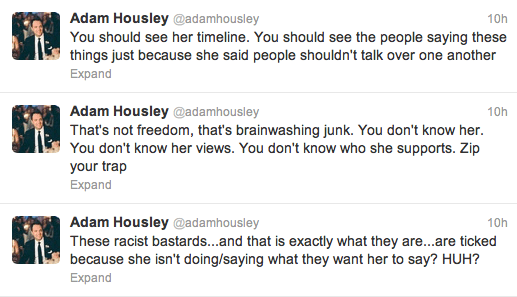 Tamera Mowry-Housley nor her husband has not issued an endorsement of either candidate yet during this current Presidential election. Tamera was not the only black celebrity criticized on twitter for expressing opinions on the political process and/or endorsing a candidate.
Developing.