By: Taren Vaughan
Cynthia Bailey and Kenya Moore still beefing? Things between Cynthia and Kenya started off on a rocky note from jump as the two butted heads during Episode 1 of this season of Real Housewives of Atlanta after Cynthia hosted an open call for JET Magazine at her modeling agency, Kenya being one of her judges. And it has resulted in a Cynthia Bailey and Kenya Moore beef on RHOA. Not too fond of the critiquing that Kenya offered the women who showed up to the casting and her attempt to get Cynthia's assistant Carlton tossed out by her personal bodyguard, Cynthia made it clear that The Bailey Agency was hers and that Kenya regulates nothing that goes on in there.  Aside from coming at each other on camera, the two have fired shots at each other over modeling resumes too, both women being apart of the industry. The Cynthia Bailey and Kenya Moore beef has escalated even more now. During a gathering on last night's episode of the show, Kenya approached NeNe and told her that she was looking to get to know her despite how things went down between her and Cynthia. Kenya's comments sparked yet another round between her and Cynthia, NeNe being in the midst of them going back and forth. As avid show watchers are aware, NeNe Leakes and Cynthia Bailey are very close and NeNe made it a point to applaud her girl for having the ability to really read people for who they truly are. Kenya however laughed it off, finding Cynthia's attempt to "read" her comical: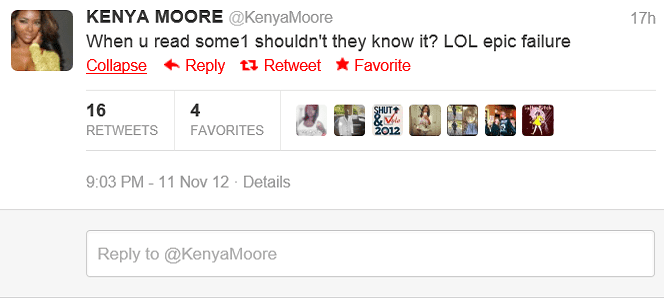 While Cynthia let everyone know that Kenya is no longer welcome at The Bailey Agency and claimed that Kenya wasn't keeping it real about how she got invited there in the first place, Cynthia saying that she is the only who has the right to extend invitations out to anyone:
Cynthia also cleared up the rumor about the incident involving her assistant Carlton:

At this rate, I'm sure the shade throwing and dragging won't be coming to an end any time soon.
Check out the clip below: