By: Amanda Anderson-Niles
Basketball Wives LA star Draya Michele isn't a stranger to controversy. Even though Draya has her stint on the VH1 reality show and spin off to Basketball Wives Miami, it's not unusual for her to get caught up in some real life drama too. As the ex girlfriend of R&B singer Chris Brown, Draya has been linked to some pretty explosive rumors post her relationship with Chris. One rumor that has been circulating for quite some time is that she was engaging in crazy bedroom antics with Chris and Karrueche Tran while the singer dated Tran. Although Draya did officially deny the claims in an interview, it didn't stop people from speculating the true nature of her close friendship with Karrueche.
And then there are Draya's Twitter beefs and Twitter rants. She's been rumored of shading Rihanna a few times while Karrueche and Rihanna beefed over Chris Brown, and she's also had to defend her up and down love life on the social network too.
So it comes as no surprise that she once again caused some controversy the other day when she involved herself in a rant by one of T.I's up and coming artists, controversial white female rapper Iggy Azalea.
Azalea isn't a big name female rapper yet, but she does hack a knack of making headlines for beefing with other rap newbie Azealia Banks, as well as those pesky rumors that she's having an affair with T.I.
Regardless, Iggy took to her Twitter account to rant about her life problems and her struggles, and of course Draya cosigned. However, the tweet pissed off one of Iggy's followers. After the follower told Iggy that she has no right to complain because she has money and it's the regular people who are really struggling, Iggy went completely off. And once again, Draya cosigned, which caused a lot of her fans to take issue with the reality star.
Here' s the tweet exchange: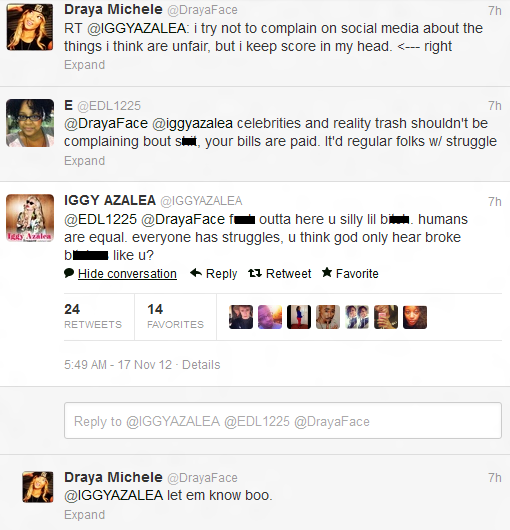 Some folks were feeling some kind of way about Iggy and Draya's response. To these people, it sounded like they were putting down the "regular" folks. In fact, the exchange caused Draya to lose some fans: