By: Amanda Anderson-Niles
If you haven't heard by now, Rob Kardashian has made headlines for dragging the pure crap out of his famous ex girlfriend, Rita Ora. The brother to reality star
Kim Kardashian
has always been known to be the most emotional and verbal jab happy of the Kardashian bunch, so to many, they can't say they were surprised that Rob felt the need to throw Rita under a bus for breaking up with him. The former couple have been over for a few weeks, but something in Rob snapped the other day because he posted a series of tweets about an ex girlfriend that he claims slept with "20 men" while they were supposed to be together. Here's the series of tweets, which were eventually deleted,
courtesy
of Celebrity Tweet. Read from the bottom up: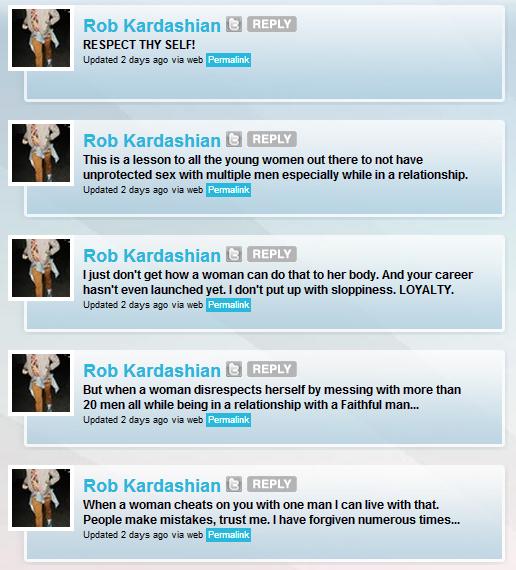 Rob never names Rita in the tweets, but it was pretty clear who he was referring to. The couple did just break up a few weeks ago, and she is the only ex of his that is on the come up and whose career has not quite taken off yet.
They say Rita tweeted a response that implied she cheated because Rob isn't a "pleaser" (we're trying to keep it clean here folks), but we can't find any evidence of that Tweet and Photoshop is the devil.
Interestingly enough, Rita just did an interview with Glamour UK, and she pretty much confirmed in the issue that she and Rob called it quits. Rita however said she called things off because she was just "too busy" to date him.
We find the timing of all of this to be very coincidental.
Well here's what we heard. Apparently, Rita and Rob were hooked up and arranged to date for publicity reasons. Apparently according to some information we received, a public break up was always in the works. Rita might be doing well in the UK, but she's still pretty much a no name in the US. Rita's managed by the same people who manage Rihanna, and their philosophy is that controversy sells. They feel Rihanna really began to blow up when she was romantically linked to rapper and mentor Jay-Z, and she stays in the news due to controversy surrounding Chris Brown and her perceived reputation (that might also be made up) of being somewhat lose in the industry. However, they want Rita to be Rihanna's good girl opposite. So what better way than to have another hated Kardashian to throw her under a bus on Twitter and attempt to ruin her career before it even starts? It's actually genius in a way because it makes Rita not only smart for walking away from a hated Kardashian, but now she's also a victim.
Also keep in mind that this isn't the first time that Rita and Rihanna's handlers have used Rob as pawn for press for their artists. Rob was also linked to Rihanna romantically earlier this year, but apparently we've been told that he was just paid to keep the press busy while Rihanna and Chris were sneaking around.
Of course Rob also had to clean things up (as with all stunts), so he took to his Twitter account to tweet that the tweets were not not directed at Rita and the media assumed who he was referring to incorrectly.
And it would be necessary to point out that Rita Ora has never made headlines to this degree before, but her name was everywhere after Rob blasted her on Twitter. Keep in mind that Rita also has a new movie coming out and an upcoming tour too.
As we told you recently, Rita is being groomed to be the next big star of Roc Nation at Rihanna's expense. Let's just say this whole thing, whether real or manufactured just put her front and center in front of a set of eyes that didn't know she even existed until a few tweets ago.