By: Taren Vaughan
Chad Johnson was already known for his animated personality both on and off the football field. But now, when his name is often mentioned, it is in relation to his past marriage and romance with reality TV star Evelyn Lozada of Basketball Wives that ended on an unpleasant note and caused Chad's name to get dragged through the mud many times over.  Well after Chad Johnson and Evelyn Lozada went their separate ways, the talk continued about whether or not they would ever reconcile with each other and give their relationship another try. While it looked like Evelyn had no plans of ever getting back with Chad, the news of her lifting the no-contact order that she had against him came about, along with Evelyn openly admitting to considering taking Chad back despite how her disturbed fans felt about it. With the lifting of the no-contact order, most people figured that it would be only a matter of time before Chad and Evelyn would be spotted together again. And sure enough that happened right around the holiday season, getting the gossip mill going even more concerning the two.
It was rumored for a brief moment that Chad and Evelyn were back together again after a picture surfaced of him and Evelyn holding hands together at a dinner party that Chad held at a restaurant in Miami, Florida. Not wanting people to get it twisted and read too much into the pictures that were taken of them, both Chad and Evelyn shut down the rumors of a reunion between them and confirmed that they are not a couple again. Yeah, Chad and Evelyn may not be back together but that won't keep him from going off on somebody for dissing her as Chad snapped on one of his followers for doing so: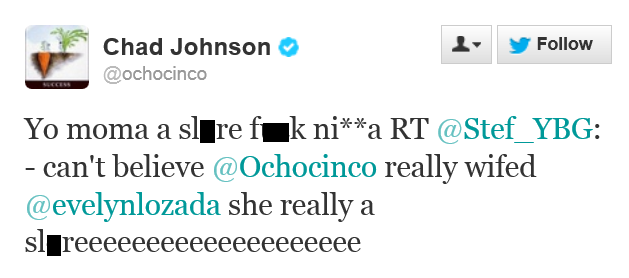 While it's always hard to tell whether or not Chad Johnson is joking with the things that he tweets, the one about Evelyn looks to have rubbed him the wrong way.