By: Amanda Anderson-Niles
Reality star Phaedra Parks has a lot to be happy about these days as not only is her fitness DVD Phine Body/Donkey Booty a top seller on Amazon but she also confirmed recently that she is expecting her second child with her husband Apollo. Unfortunately for Phaedra, being on a popular reality television show can make one a target to drama that pops off away from the cameras that is even more controversial than her onscreen drama with Real Housewives of Atlanta newbie and season five villain Kenya Moore. As we recently reported, Twitter seems to be the place for people to make their accusations of Phaedra's shady rumored past dealings, as the last woman went so far as to claim Phaedra used to head a prostitution ring.
The same woman, Angela Scranton, is said to have written a tell all book, but it's been reported that Phaedra and her mother have filed lawsuits against Scranton claiming the things she has written in the book about Phaedra are untrue.
Welp, now there's another woman popping off about Phaedra on Twitter. And this woman is accusing Phaedra of sleeping with her husband. In a series of tweets, she claims that Phaedra was the godmother to her child, but allegedly began an affair with her husband behind her back. She also suggests she too is writing a tell all book about Phaedra.
Here are the tweets and accusations, which were obtained by Rhymes With Snitch: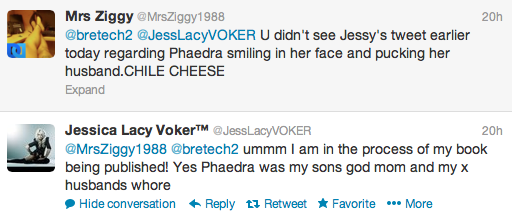 We don't know if these accusations are true considering anyone can create a Twitter account and lie about anyone who is a public figure (it happens all the time), but this is at least the second person to write "tell all" book about Phaedra Parks. Messy.