By: Amanda Anderson-Niles
The Ciara and Rihanna beef obviously isn't over. After the singers had a Twitter beef a couple of years ago as a result of Ciara suggesting on Fashion Police that Rihanna thought she was too good to speak to her when she saw her, Rihanna decided to go after her on Twitter. Rihanna hit Ciara where it hurt, and pretty much suggested that she was a has been who has problems booking stages these days. This eventually led to Ciara letting Rihanna know that she didn't want to see her on or off the stage, and of course the cat fight was ended within minutes after both issued each other a very flaky apology. So no one should be too surprised that Rihanna and her friends took to Instagram to shade Ciara's recent bathroom a cappella of her new single "Body Party" the other day.
While Rihanna's pretty quiet on the latest shade, her best friend Melissa Forde continues to do her dirty work. As we reported last year, Melissa is known for taking to her Instagram account to shade Rihanna's enemies. Before Ciara, she also got into it pretty tough with Karrueche's friends before Chris and Rihanna officially got back together. So when Ciara's fans whom she affectionately refers to as the "C Squad" got busy in her mentions, she decided to let them know why she finds humor in them identifying themselves as a squad. In one tweet, she hit Ciara and her stans where it hurt, suggesting that it's pretty appropriate for them to refer to themselves as a squad because it's so few of them: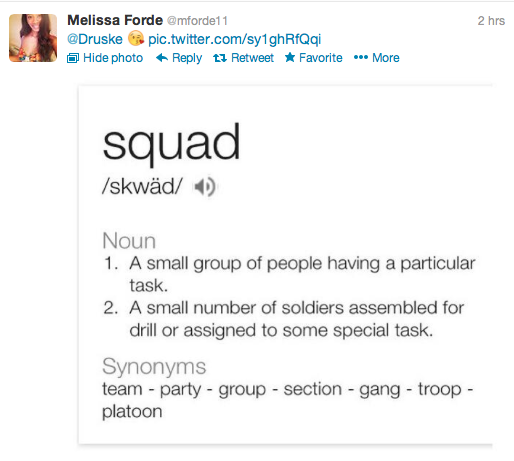 Ciara's fans of course decided to use the dictionary as well to clap back at Melissa: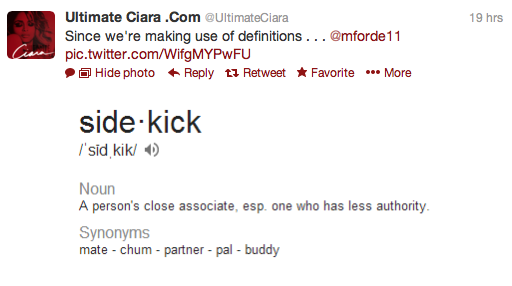 Then Ciara's boo Future had to chime in (read from top to bottom):

Meanwhile, Ciara is pretty much over it and too happy to let Rihanna and her friends get to her. She posted a picture of her getting cutesy with Future to her Instagram account last night:
They do say happiness is the best form of revenge, right?