By: Amanda Anderson-Niles
Is Draya really a bad mother? While "Basketball Wives LA" struggled to pull in decent ratings last season, it's pretty clear reality TV star Draya Michele has no plans of slowing down anytime soon. She's already launched her fashion line "Fine A$$ Girls," and she's still getting paid a pretty penny to make paid club appearances. Draya even caused a big fuss on Twitter recently because she seemed to put her "profession" above teachers. Regardless, she obviously hasn't managed to find a more peaceful approach to Twitter because once again, she found herself in the middle of yet another Twitter controversy. And this time it wasn't because she was bragging about making more money than teachers. Instead, she got dragged for a very touchy situation that even she prefers not to talk about in interviews.
If you have been hiding under a rock, then you probably don't know Draya was allegedly arrested for child neglect. According to various reports, police arrested her because they allegedly found her son alone and he told the police he had been there for hours without his mother. Notably, he allegedly told the cops Draya had left him a frozen TV dinner and the cops claim the apartment was a mess with dog feces everywhere.
Draya doesn't like to talk too much about the accusations, but she claims she knows she's a great mother despite what all the blogs have been reporting. Too bad most of the people on Twitter don't agree.
The reality star is set to cohost 106 & Park with Bow Wow on Thursday, so BET decided to start a #AskDraya topic on Twitter so fans of the show could ask questions she would answer on air. It didn't take long for the topic to turn into a bash session. Here's some of the coldest tweets about Draya's parenting skills: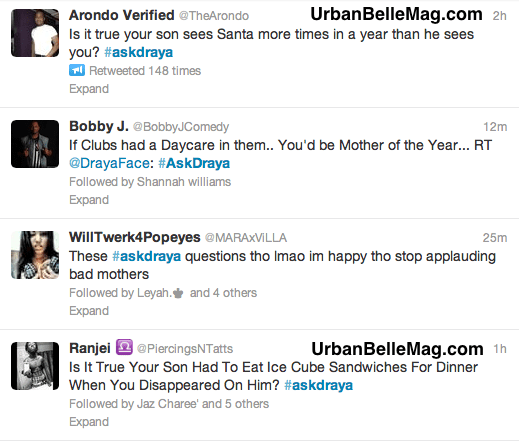 Although Draya's mentions became a massacre, the reality star still clapped back at her critics. She tweets (read from the bottom up):