By: Amanda Anderson-Niles
R&B singer Kelis might be working on making her comeback to music, but the ex-wife to Hip Hop legend Nas has also decided in the process to hop on the Instagram train and reveal a little more about herself to all of her fans and supporters. This has made Kelis a favorite to follow of course considering she's just as outspoken there as she always has been in her music and fashion choices. Recently, Kelis made headlines for confirming she called off her marriage to Nas because he was unfaithful, and she then used another Instagram post to tell everyone to get over her former marriage to Nas and move on because she surely has.
Kelis has always been known for her fearless take on fashion, and because she's rocked trends before they even became trends, fans of the singer tend to think younger singers have copied certain elements of her style. So it's no shocker a recent post on Kelis' Instagram account caused many to think she was throwing some shade to Rihanna. Check out the photo:
It didn't take people long to come to the conclusion Kelis was trying to throw shade:
Some of Rihanna's fans called Kelis out for what many deem was jabs at Rihanna:
However, Kelis claimed the post wasn't shade to anyone in particular, but agreed with a follower who said people should let fashion inspire them to make it their own and not simply be "duplicates" of others: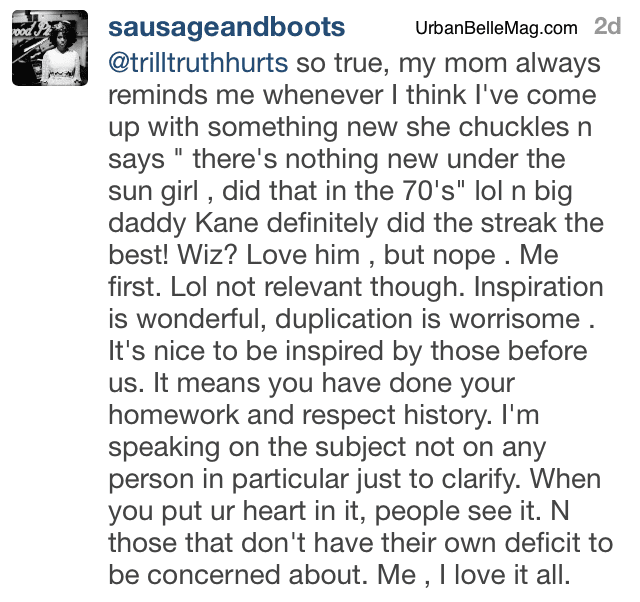 To explain a little bit further as to why some thought Kelis was throwing shade, remember Rihanna currently has a deal with River Island and has her own collection.
But do you think this was shade? Speak on it in the comment section below.