By: Amanda Anderson-Niles
Kendrick Lamar disses Meek Mill? Kendrick Lamar had everyone in Hip Hop talking after he dropped that controversial verse in Big Sean's "Control." The verse was braggadocio, and the Compton emcee paid homage to the greats before he crowned himself as the "King of New York." Although Kendrick eventually cleared up the confusion over the lyric and said he was just paying homage to the Notorious B.I.G. with the rhyme, a whole slew of rappers ran to the studio to record their responses. Interestingly enough, the rappers Kendrick actually named in the verse and told to step their bars up in the friendly competition didn't reply in songs of their own, except Meek Mill.
Drake has already stated that he isn't worried about Kendrick because he feels Kendrick will never be on his level and Wale claimed he would have felt disrespected by Kendrick if his name wasn't mentioned. But Meek Mill decided to respond to Kendrick in his "Ooh Kill Em" song and although all emcees claim it was just Hip Hop and nothing to be taken too seriously, social media erupted last night after Kendrick took shots at Meek Mill during his performance in Brooklyn last night. According to tweets from All Hip Hop, Kendrick said the following:
"I been doing this sh*t for years…I mastered this sh*t. I have no time for irrelevant n*ggas [or] new n*ggas. There's one n*gga in particular that needs to realize that there's 'levels' to this sh*t. I'm MOTHER F*CKIN' KING KENDRICK."
Meek Mill took to his Twitter account to respond to the Compton emcee (read tweets from bottom to top):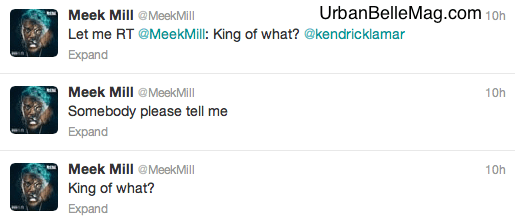 Kendrick hasn't responded to Meek's tweets as of yet. But we were told he probably won't because Twitter beefs aren't his thing and he'd rather just hash it out on the mic.