By: Amanda Anderson-Niles
Tina Davis has been in Chris Brown's corner ever since he was just a young teenager from Virginia hoping to become the next great entertainer, but as always when artists step away front their former managers, things get ugly.
Yesterday Chris took to his Twitter account to accuse Tina Davis of leaking out music from his upcoming album "X." He tweeted the following before deleting it (screenshot obtained by That Grape Juice):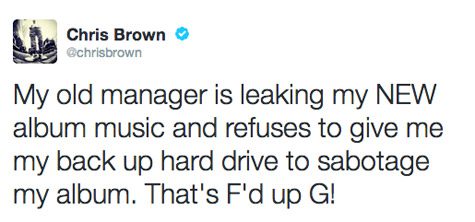 Tina Davis was not having it and she clapped back just minutes later before also deleting her tweet, seemingly hinting that she felt Chris' tweet was defamation and slapping him with a lawsuit was a possibility:
@ChrisBrown Trace it! Find out where it originated from…RCA can do that for you. Then send a defaming tweet out on who really did it.
As we reported recently, Akon's brother Bu Thiam joined Chris' management team about a year ago, but now he's reportedly Chris' official manager and Tina is out.
"X" drops on May 5.