By: Amanda Anderson-Niles
Orlando cheating on Draya? On last night's episode of "Basketball Wives LA," Draya and her boyfriend Orlando Scandrick had to face cheating accusations made by Jackie Christie's daughter Chantel. Originally it was claimed that Chantel and Draya dated Orlando at the same time early on in the relationship, but when pressed to confirm what really happened with Orlando, Chantel refused to answer.
However, Chantel had plenty to say on Twitter and even accused Orlando of being gay and only using Draya to increase his popularity as a Dallas Cowboys cornerback.
Draya doesn't believe anything ever happened between Orlando and Chantel besides a text message history, but now it appears more dirt is coming up regarding Draya's boo.
Last night on Twitter, someone actually told Draya that Orlando is allegedly sleeping with other women all around Dallas and this tea was allegedly spilled by his own cousin (read tweets from top to bottom):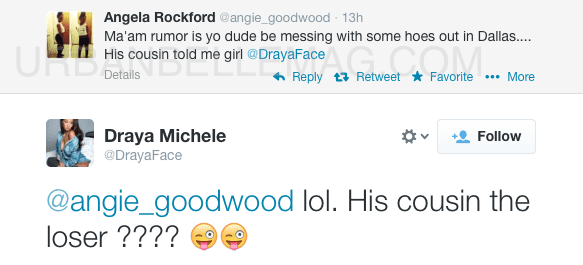 To be fair, Draya isn't the only BBWLA star dealing with cheating accusations regarding her man. Recently, newbie Brittish Williams' fiancé was put on blast too.