By: Amanda Anderson-Niles
Chantel Christie, Orlando Scandrick text messages revealed? On last night's episode of "Basketball Wives LA," Jackie Christie decided to put Draya on the spot and she had her daughter Chantel confront Draya without any type of head's up.
Draya wasn't happy about what she feels was an ambush orchestrated by Jackie, but Jackie feels a conversation between her daughter and Draya needed to happen.
In the heated conversation, Chantel once again taunted Draya about Orlando texting her while he and Draya were on a "break," while Draya told Chantel to her face that Orlando was never serious about her.
Of course all of the drama spilled right on over to Twitter and Instagram once the episode ended.
Chantel posted the following screenshot of text messages between her and Orlando to her Instagram account (screenshot obtained by The Shade Room):
After deleting the "evidence," Chantel then tweeted the following (read from bottom to top):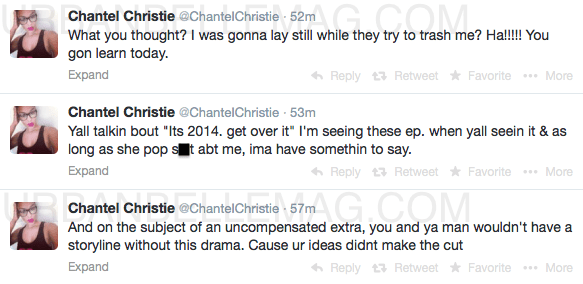 Draya wasn't bothered though (read tweets from bottom to top):