By: Amanda Anderson-Niles
Last night part one of the season six RHOA reunion aired, and as promised, the dragging Porsha Williams gave Kenya Moore was finally shown in full.
It happened so quickly that we have to admit we were still a little shocked that Porsha was able to grab a handful of Kenya's tresses and literally slammed her head on the ground and then dragged her across the floor before producer Carlos King restrained her.
Despite being asked to leave and recoup (Andy Cohen even told Porsha she needs to apologize to Kenya), the other ladies with the exception of Cynthia and Kenya felt that Miss USA deserved the literal dragging she got from Porsha.
And NeNe went off on Twitter about it last night too. She tweets (read from bottom to top):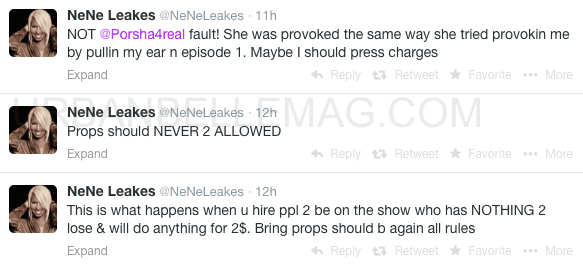 Now Team Twirl is claiming that Kenya set up Porsha and Porsha fell for it (we reported that rumor a couple of weeks ago) but now that we saw the whole thing in full, we can say Kenya's eyes got so big when she was getting grabbed and dragged by the hair that we don't think this was part of her plan. We think neither Kenya or the producers thought that Porsha would actually do anything.
As of this morning, #TeamPorsha is trending on Twitter. But check out the video below and give us your thoughts.