By: Amanda Anderson-Niles
Yesterday it was reported by US Weekly that Ciara and Future had called off their engagement, and a source told the publication the root of their demise was Future's alleged cheating ways.
Now we told you weeks ago whispers were suggesting Future was allegedly having an affair with his personal assistant, but that report was never confirmed.
Then of course it was also rumored that Future was creeping around with his baby mama Brittni (she's the same one who had multiple Twitter beefs with Ciara), but Brittni denied the rumors on her Twitter account.
Interestingly enough, some folks in Atlanta are saying she wasn't be honest. Straight From The A writes:
Years later, the pair were reintroduced by their mutual label, Epic and as an effort to jump start both of their careers they began 'dating'. It didn't take long for their constructed relationship to become a real life on and the two got engaged in October 2013.

Business is business and it seemed like a good look for them both. They even shared a home in Los Angeles but Future still tip toed back to Atlanta to be with his other baby mama on several occasions.

Fast forward to now, and my sources reveal that Future has been back with Britanni for months now.
The blogger also claims Future never really ended things with his baby mama and Ciara allegedly knew that before she got pregnant.
In related news, we were hit up by a source about two months ago who told us that Future was allegedly messing around with an up and coming R&B singer from Louisiana. So if you ask us, the whole situation is very messy and Ciara is better off focusing on her son and her career at this point.
And as far as that tweets are concerned, many were confused as to what Ciara meant when she claimed she never did an interview with US Weekly. Well Ciara later clarified that she did do an interview with US Weekly, but she feels her quotes were being manipulated (read tweets from bottom to top):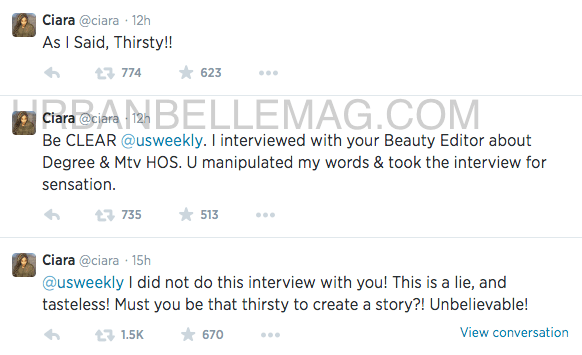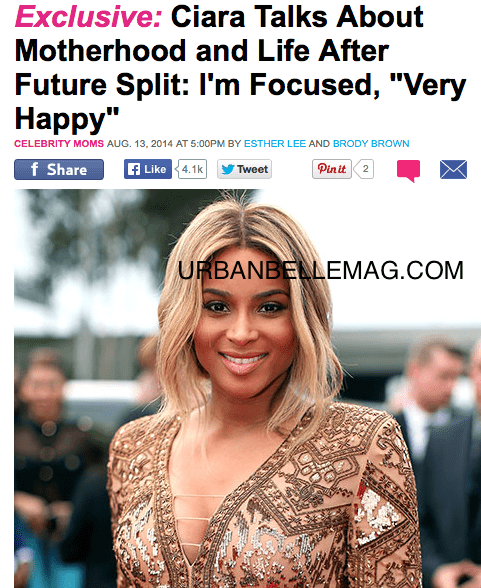 It looks like Ciara isn't denying that her engagement to Future is over though.