By: Amanda Anderson-Niles
Tyga and Blac Chyna have ended their romance, and both have been silent about just what caused them to go their separate ways until recently.
Blac Chyna took to her Twitter account the other day to slam her former rapper beau and she subliminally hinted that it was Tyga's alleged cheating ways that caused their demise: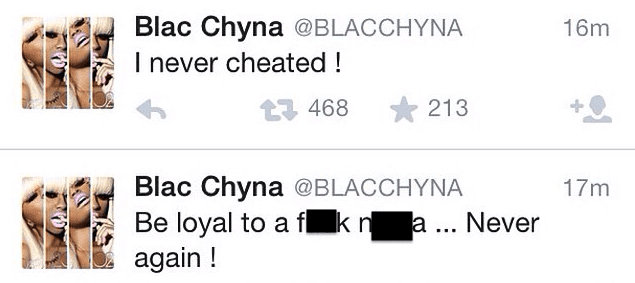 Interestingly enough, Chyna's own supporters seem to believe the Kardashians are to blame for the breakup. According to multiple reports, for the last few months, Tyga has been getting very close to Kylie and Kendall Jenner. But whispers are suggesting that it is Tyga's very close "friendship" with 17-year-old Kylie that made Blac Chyna very uncomfortable. Tyga was even the one who threw Kylie her birthday bash recently too.
Even Chyna's own fans have been tweeting her and telling her they believe Tyga and Kylie have a budding romance and Chyna hasn't been spotted with Kim Kardashian in a while either.
We can't confirm anything is actually going on between Tyga and Kylie, so we're labeling all of this as gossip for now.