By: Amanda Anderson-Niles
Yandy Smith has always had a reputation for being the calmest person on "Love and Hip Hop New York," but this season the reality star is finding lots of friction in Mendeecees' relationship with his assistant Remy.
On the latest episode, Yandy told Mendeecees she is not feeling Remy as his assistant because she feels Remy dresses inappropriately on the clock.
Yandy also made it seem like she has an issue with Remy because she doesn't know her very well, so the trust isn't there for her to be comfortable with them hanging out in clubs together when she's not around.
However, some are starting to suspect Yandy is just pulling stunts for storyline purposes.
Baller Alert did some digging and discovered Remy and Yandy appeared to be on good terms for years, if Remy's Instagram page is any indication.
The site reports:
First I'd like to say this is eerily similar to Yandy's first season with Love & Hip Hop when Chrissy expressed the same concerns. But back then, Yandy didn't see anything wrong. Now, after some digging through Remy's instagram page, apparently she and Yandy have been extremely close over the last 2-3 years, at least according to Remy who referred to Yandy on several occasions as her big sis.

On photos dating back as far as 154 weeks ago, Remy spends time with Yandy outside of work environments and even assisted Yandy during photo shoots. Remy refers to Yandy as her sis, says how much she loves her and even spent Valentine's Day, her birthday and more with Yandy. She has more pics on her page of her and Yandy than she does of Mandeecees. One would think she was actually Yandy's assistant from the looks of her Instagram page. Yandy even comments under the photos, calling Remy her signature "puud" pet name.
Interestingly enough, Remy sort of hints to this in a recent Instagram rant (screenshot obtained by Baller Alert):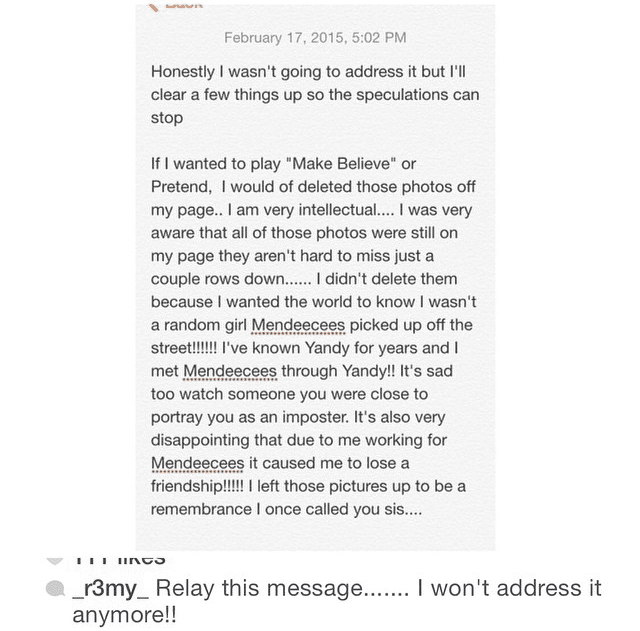 UPDATE: Yandy has responded and it was pretty lengthy too: