"Empire" star Terrence Howard expressed his displeasure on Twitter with allegations made against him involving physical abuse.
Terrence is no stranger to these kinds of allegations made over the years. The Empire star has been accused of physically abusing multiple wives and girlfriends. However, Terrence also made claims he was abused by some of these same women.
In the rant, Terrence expressed a man should not strike a woman. He also denied new allegations, unknown to the public and demands cyber bullying towards him cease immediately.
Checkout his tweets below (read from bottom to top).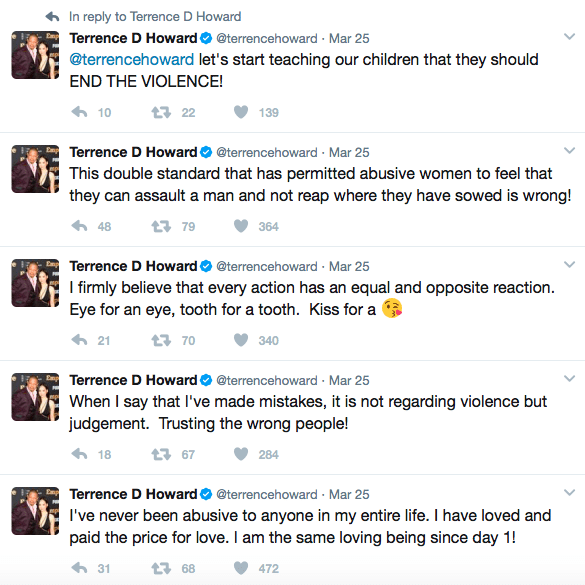 Terrance Howard also posted an open letter to twitter where Terrence speaks of sources circulating "half-truths" regarding his personal life.

Terrence could be referring to an on-going lawsuit from his second wife, Michelle Ghent. According to the Hollywood Reporter, Terrence express contrition towards striking his first wife and speaks to a fight involving Michelle trying to pepper spray him.
In an interview with Rolling Stone, Howard expresses contrition for a 2001 incident during which he allegedly punched his first wife, Lori McCommas.

"She was talking to me real strong, and I lost my mind and slapped her in front of the kids," Howard, who was arrested following the incident, tells the magazine. "Her lawyer said it was a closed fist, but even slapping her was wrong." (The police report also notes that Howard "punched her twice with a closed fist.")

As for his second wife, Michelle Ghent, Howard was accused (in a lawsuit she filed) of beating her severely in 2013 in Costa Rica.

According to the lawsuit, Howard "followed [Ghent] into the restroom of the rental house and punched her on the left side of her face. [Howard] also grabbed [her] by her neck and pushed her against the bathroom wall and strangled her for several seconds."

Howard responds to these allegations as well in the Rolling Stone interview. "She was trying to Mace me," Howard explains, "and you can't see anything so all you can do is try to bat somebody away, and I think that something caught her. But I wasn't trying to hit her."