Earlier this morning, Tamar Braxton revealed that she received devastating news from another woman.
Tamar found out that Vince is having a baby by another woman.
She claims the woman recently called her to give her the scandalous news.
She also reveals that she has a protective order out against Vince, which he violated to contact her shortly after.
This news angered Tamar so much that she blasted Vince and the woman on Instagram.
She also called out Laura Govan.
Check out the post below.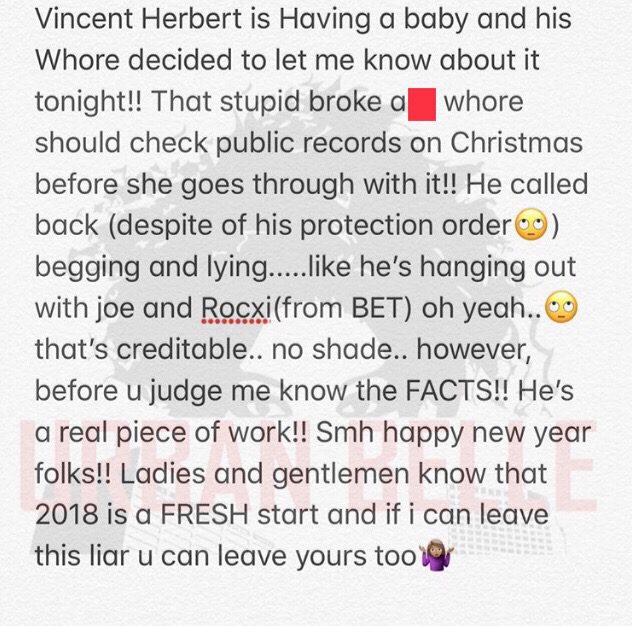 UPDATE: TMZ is reporting that Vince was actually arrested on Christmas day for assault:
Tamar Braxton says the triggers that led her estranged husband Vincent Herbert to a jail cell on Christmas day were alcohol and a case of jealousy.

Tamar tells TMZ, "Co-parenting while going through a divorce is not an easy task. While celebrating the Christmas holiday as a family, after a few drinks and some jealousy, things got a bit out of hand, which is common for most families during the holidays. In the midst of everything our family is going through things got heated and a bit exaggerated."

Tamar makes it clear … "There was no physical interaction between Vince and I on Christmas. While I do not appreciate his lack of respect for our family and him allegedly impregnating another woman, I cannot paint him as a vicious abuser that Vince is not."

TMZ broke the story … Herbert was arrested for spousal assault and taken to jail, where he bailed out after posting $20k.

Tamar says, "I'm deeply hurt and saddened that this will be how we remember Christmas 2017, but, my motto is and maintains to be 'Bluebird of Happiness' and nobody will stop my joy and blessings going into the New Year! God Bless!"