Sheree has a bone to pick with NeNe Leakes now that NeNe has made it clear that she feels Tyrone Gilliams is nothing more than a con artist.
In fact, she clapped back at NeNe in a recent sit down with Bravo.
Kim Zolciak was also in attendance and the shade was real.
Here's what Sheree had to say about how NeNe met Tyrone:
So NeNe met Tyrone before I met Tyrone. Tyrone was in Miami,  I guess with a girlfriend at the time. NeNe was them…she went and befriended the girl.

But ultimately…. I think she liked Tyrone.
When Sheree was asked if Tyrone ever slept with NeNe, she said:
No, she's definitely not his type.
At this point, Kim made a face as if she is disgusted by NeNe's looks.
When NeNe was asked about how she met Tyrone, she said the following:
I was going through a divorce at the time. And we were staying at the same hotel. And he was with another girl. Of course they were super thirsty. And came over and, 'Hi I want to meet you. Would love to take you out to dinner.'

We went out to dinner in a group setting.

And later on, he called me on his own and wanted to go out to dinner.
She also said Tyrone later asked her on a date:
Well I am NeNe Leakes, honey. So I get free dinners every now and then.
NeNe also claimed that she was not attracted to Tyrone.
As the end of the sit down with Bravo, Sheree had the following to say about NeNe calling Tyrone a con artist:
Well b*tch weren't thinking all that when you were trying to talk to him.
And NeNe claimed that she views Tyrone as an opportunist:
Of course Tyrone is an opportunist. I mean he tried to talk to me, he ended up talking to Sheree… just find it very odd when guys move around a circle of girls.

You know, my nose is pretty big. I smell a rat, honey.
Check out the video below:
NeNe took to Twitter to air out her frustrations with Sheree and Kim: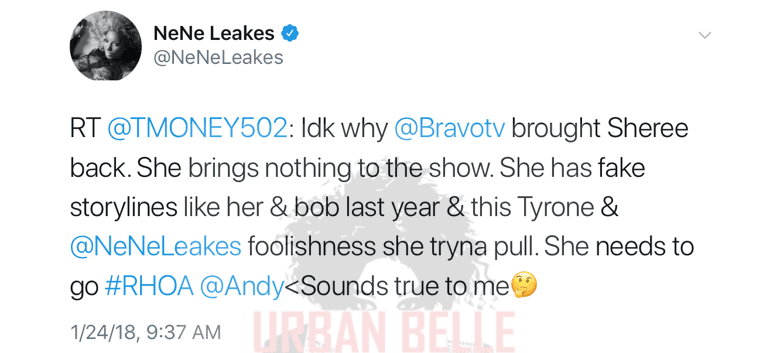 Sheree clapped back with the following: