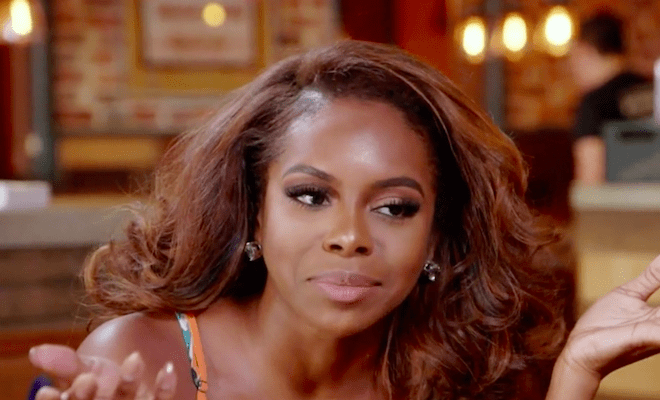 The latest episode of RHOP will definitely lead to more drama down the road.
Here are the highlights.
Candiace still doesn't believe Ashley wants to get pregnant.
She meets with Gizelle at Chris' restaurant to discuss what went down at Monique's Rainbow Baby party.
In particular, Candiace wasn't moved when Ashley opened up about having a miscarriage.
Candiace even said that she isn't "buying it." Gizelle feels like Candiace should just give Ashley the benefit of the doubt. But Candiace not only feels like Ashley doesn't want a baby, but she questions Ashley's intentions completely.
Monique's words are twisted.
While talking to Gizelle, Candiace also brings up the comment Monique made about Katie.
She tells Gizelle that Monique said Katie looks like Amistad.
Gizelle then says that it's not cool that Monique said that Katie looks like a slave.
But producers flashback to the scene and Monique actually said that Katie acts like a free spirit, very Amistad "give us free."
It's clear Gizelle feels some type of way and this will get back to Katie soon.
Chris' mother makes things right with Monique. 
Monique's Rainbow Baby party is an emotional one.
She makes a speech and opens up about her miscarriage.
Before she can really wrap up, her mother in law Shirley asks to say a few words.
Shirley surprisingly takes the moment to apologize to Monique. In an earlier season, Shirley called Monique a heifer while the cameras were rolling.
Later on, Shirley and Monique hash things out in front of Chris.
After Shirley says that she should be able to say whatever she wants because she's Chris' mother, Monique tells her it's never okay to say hurtful things.
But Shirley and Monique both want a better relationship. So they decide to leave the past where it is and move forward.
Ashley and Karen have a touching moment. 
Both women go to a salt therapy session.
The woman in charge of the session happens to be a medium.
She tells Karen that her father is in the room and he says Karen will be fine because she's strong.
This causes Karen to break down in tears.
She says she really misses her dad. It was tough to lose both of her parents around the same time.
But she knows that she has to be strong.
Ashley then opens up.
She reveals she had a miscarriage at 19. Since she's had two miscarriages, she's not sure she's actually able to have children.
And with Michael being so much older, she worries he may leave her if she can't have a baby.
He even cried at Monique's party discussing their struggles to have a baby.
But Karen assures her that won't happen and she will have a baby.
What are your thoughts on the episode?
View this post on Instagram
View this post on Instagram